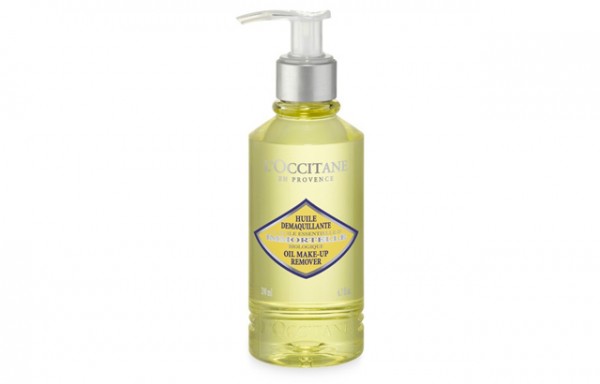 If you're like us, then your skin is feeling the effects of a dry winter, but it's not stopping you from putting makeup on, which means that effective cleansing is just as important. If you're looking for a gentle way to do that without drying out your skin, then a cleansing oil is your best bet, and we've fallen in love L'Occitane's new Immortelle Oil Make-Up Remover.  This one is specially formulated for aging skin, because it's enriched with their Immortelle extract.  
This makeup cleansing oil is meant to applied to dry skin and it literally melts off the makeup on your face – it even works on waterproof mascara and any long-wearing products.  Once you've given your skin a good rub with this, rinse it off with water.  The oil emulsifies with the water and washes off clean with no residue.
If you have dry skin, then this is the best thing for it.  If you have oily skin, then this oil will emulsify that too.  If you like an extra clean, then follow up with a gentle foaming cleanser.  If you use a toner afterwards, you'll notice that it comes away completely clean and devoid of any residue – that's how clean your skin is going to be!
Pick up this cleanser at L'Occitane boutiques or online for $32 (for a huge bottle that will last ages).