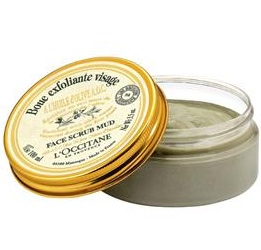 I love multi-tasking products, and this one works quite well.  It's a mask, a scrub, and best of all I can use it in the shower and still get the full benefits from using it.
L'Occitane's Face Scrub Mud, is part of their Olive Oil range of products but that shouldn't discourage those of you with oily skin from using it because it does absorb oil without drying out your skin.
The mask is clay-based but has fine grains in it so that while you're washing it off, you can scrub your skin and give yourself a nice deep clean.
Find it at your local L'Occitante Boutique, or online.