I've been using L'Occitane's shea butter hand cream for about ten years, and it remains one of my favourites.  It's a simple formula – 20% shea butter makes for a super moisturizing cream but one that's easy to apply and feels almost like a cold cream on our skin.
I love that each year, L'Occitane brings out a new scent for their hand cream and this fresh floral one is one to collect.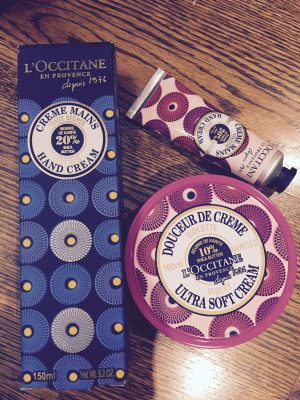 If you find the hand cream too greasy, then you should check out the Ultra Soft Cream which comes in a tin and has just 10% Shea Butter.  It absorbs more readily and is better for smoothing all over the body, not just on your hands.
The packaging of the creams is now in geometric prints in honour of the Burkinabé who harvest the shea butter as part of a sustainable fair trade partnership with L'Occitane.  L'Occitane has had this relationship for 36 years – notable since the company has been around for just 40 years.
The collection includes:
Shea Violet Ultra Soft Body Cream: $28
Shea Violet Hand Cream: $12
Shea Violet Lip Balm: $12
Classic Shea Limited-Edition Hand Cream (the big tube in the image) (150ml): $32
Classic Shea Limited-Edition Hand Cream (30ml): $12
Classic SheaLimited-Edition Ultra-Rich Body Cream: $48
Classic Shea Limited-Edition Lip Balm: $12