I know that the majority of my readers are women, so this Valentine's day, I want to encourage you to give a gift to another woman that you love and respect.  It's a tradition that I saw co-workers participate in years ago, and something that I've picked up myself.  I've taken Valentine's day to mean that it's a time for me to support someone who could use some extra TLC, or take it as a time to say "thank you" to someone who may have helped me out in a time of stress.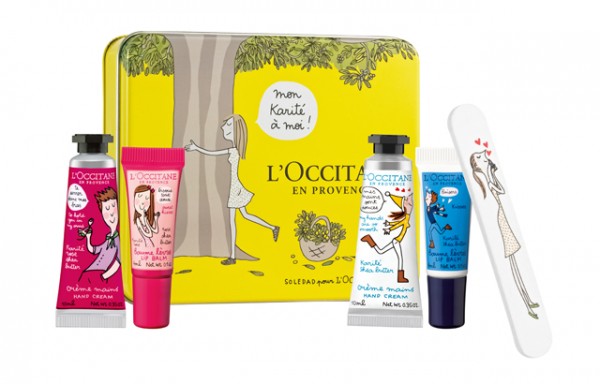 A gift from L'Occitane never disappoints, because their high quality skincare products work for almost everyone, especially in the cold winter months.
This year, at L'Occitane, they have new Valentine's Day hand and lip gift packages that feature art work by Soledad Bravi. The packaging is bright and whimsical which is a nice contrast from the chic product that L'Occitane already is.
The Hugs and Kisses gift sets have in them a hand cream and lip balm and they're my favourites because they're more affordable.  There is a Shea Butter Hugs and Kisses and the Shea Butter Rose Hugs and Kisses ($24 each).  These include a mini Shea Butter hand cream and shea butter lip balm.  Both are super hydrating – the hand cream absorbs into skin almost instantly, and the lip balm keeps lips soft for hours.
Pick them up at L'Occitane Boutiques this February.