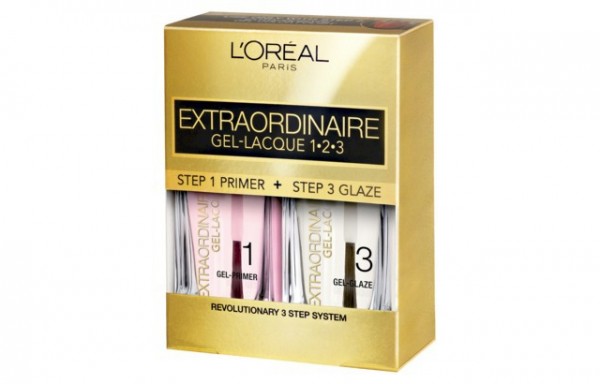 At-home gel manicures are everywhere these days.  I'm constantly surprised by how many women actually own a gel-manicure kit – many, it turns out, and from Sally Hansen to Kiss Nails, it seems that if you have the patience, you can have gel nails at home.
That said, not all systems are created equal, and now there's the Gel-Manicure without the lamp or the special removal kit.  You apply these "gel polishes" like regular polishes, and don't need to set them with a lamp.  You then remove with regular polish remover.  In essence… it's not a gel manicure at all.
L'Oreal Paris now has Extraordinaire Gel-Lacquer 1-2-3 Nail Color. The 1-2-3 refers to a base coat, top coat, and colour that you apply in between the two. Nowhere on the box does it say that this system performs like a gel manicure… more accurately they say that it just looks like a gel manicure in that the polish is slightly cushiony when finished, and the top coat is super shiny.
When I tried the system, it certainly did not last very long on my nails. I probably had the same amount of chipping that I do with regular nail polish. I'm going to go on and say that if you normally don't use a primer and top coat and then you switch to this system, you're going to have much longer-lasting manicure.
It does say on the box that you should use the top coat and base coat only with the L'Oreal Gel-Lacquer nail polish, but if there's nothing unique about it, I don't see why that should be the case. the Gel-Lacquer polish seems to dry without much shine and does need a top coat to look good. I definitely wouldn't wear that on its own.
All in all, the use of the word "gel" in the name implies that you're going to get a super long-wearing manicure (most gel systems are meant to last atleast two weeks), but that's not the case here.
This system is in drugstores now.