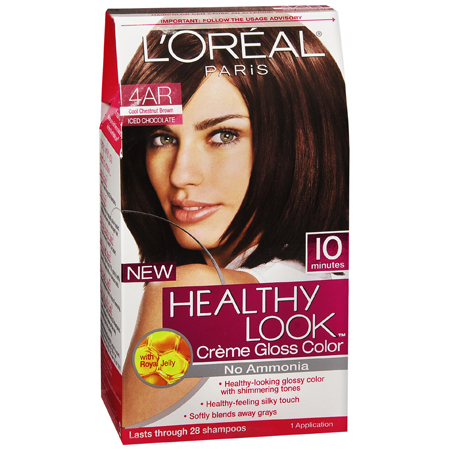 I so wanted to like L'Oreal's Healthy Look Creme Gloss Review.  The box said that the colour would take only 10 minutes to do and I'm such a sucker for anything that says it'll make my hair shinier.  The product has "gloss" in its name!  How could it be bad?!
But it was.  I realized too late that this is one of those hair colourants that washes out in 28 washes, which is a little over a month. What that means is that it's a semi-permanent colour and that means that it won't cover all grays.  The box says that it just "blends" away gray, which just means that it'll cover some of it, and leave some of it.
Obviously, that doesn't work for me.  It's nice that some of my gray hair got covered because I can hide most of it anyway, but my roots were still showing which is not good.
I've found that using this type of product really works if you're planning on using it all the time.  If you're fine with colouring your hair at least once a month, and so you can layer dye over dye so that your grays are blended out totally, then this will work for you.  It's also great if you have light hair and want to know what you'll look like if you go a shade darker.  You don't have to commit to the colour, and if you really don't like it, just use a volumizing or build-up removing shampoo every day, and you should be done with the colour in no time.
And for the record, this did give my hair great shine, but it wasn't enough to make me use this again.
For most people, who want to colour their hair to cover gray or to get one single shade of hair, this isn't the product to use.  My favourite kind remains Clairol's Perfect 10 which gives you full coverage in just 10 minutes.