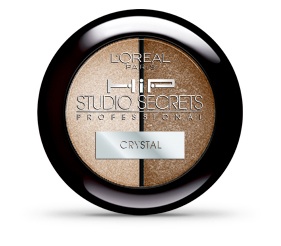 L'Oreal has a new eyeshadow in their HIP line, which now seems to be called Studio Secrets Professional (this seems to be an attempt to move away from the HIP branding for darker skin tones, and move towards HIP being more for people who want nicer products from the drugstore).
The HIP line has had amazing products so far and I've always liked using their eyeshadows.I just got the HIP Studio Secrets Professional Crystal eyeshadow.
But this new eyeshadow is a pain to use. It's supposed to look duochrome on the eyes but it's not finely milled at all so there's tons of fall out when you apply it to the eyelid.
I tried this eyeshadow with and without a primer, wet and dry and I really could not get it to work for me. There also isn't a ton of pigment with these so there's really no reason to deal with the fallout.
At over $10 for a drugstore eyeshadow this is a pass for me and I'd rather spend the money on a duo-chrome eyeshadow by MAC.