You know me: I'm a sucker for foundation, and I especially love anything and everything that's long-wearing.  My combination skin combined with exceptionally long days (we're talking about 16 hours with makeup on, sometimes) means that I like something that really lasts, because the last thing I like to do is powder my nose in the middle of my day.  Keeping my lipstick fresh is enough.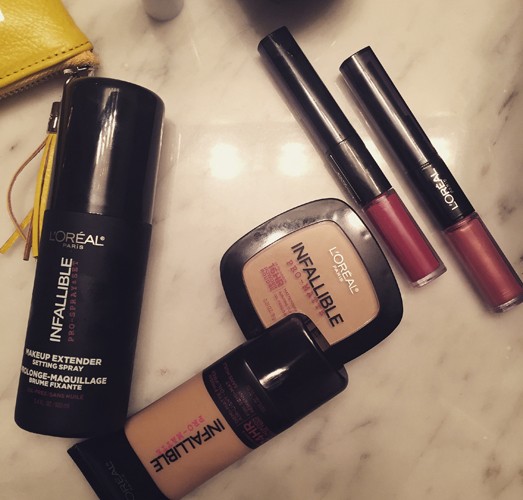 So I was thrilled to get my hands on the new L'Oreal Infallible Pro-Matte collection.  I got the foundation, setting powder, the makeup extending spray, and the lip cream.  The products promise to be long-wearing – the powder up to 16 hours and the foundation up to 24 hours.  Now, long days I have, but I can't remember the last time I've had makeup on for 24 hours – and I hope those days never come because I need my sleep!
But at this point, I've worn the foundation on a long flight, kept it on during a nap, and worn it to a packed event that wasn't air-conditioned and I have to say I'm impressed.  The makeup didn't wear off at all!
The powder and setting spray are good, but the foundation is the jewel in the cap of this collection.  It works well on its own and doesn't even need to be powdered because it does have a matte finish.  If you have normal or drier skin, it might actually feel dry on the skin and enhance dryness, so it's best to moisturize well before using this foundation, and the formula can handle it.
As the foundation sets and warms on your skin, it actually looks better and better, and I have to say that the foundation looked best a couple of hours after I had worn it.
The lip cream is good, as far as long-wearing lip products go, but how it wears is going to depend on how much you eat or drink.  It won't last the whole day but it will make it to lunch without feathering or wearing off too badly.  It's not as drying as some lip creams are, and the moisturizing top coat does well and keeps everything feeling good. I wouldn't wear this for a regular day because I found that it did feather if I reapplied more on top.  It's best worn for short periods of time, and would look especially good on camera.
And that takes me to the best thing about this collection: it photographs exceptionally well!  It is full-coverage so you will have to contour and highlight to bring some of the natural colour back into your skin, but as long as you do that, you'll look amazing in your pictures.
If you like full-coverage foundation and want something truly long-wearing, check out this collection.  It's on drugstore counters now.