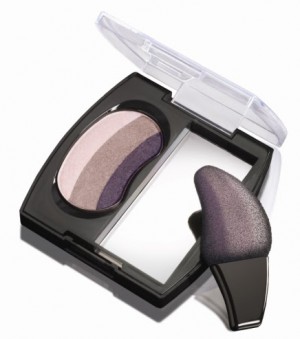 L'Oreal One Sweep Eye Shadow Review is a palette of three eye shadows packaged together in strips. The premise is that you take the huge accompanying foam eye shadow applicator, and swipe in the palette and like magic, you get liner, base colour, and highlighter applied to your eye.
Not only does this definitely not work, but it's probably one of the most ridiculous products available at the drug store. Granted, it tries to take the guess work out of putting eyeshadow on and all that, but seriously, there is no replacement for a set of proper eye shadow brushes and just learning the technique of putting on eyeshadow properly.
I am even going to go so far as to say that it's probably easier and takes way less time to just put eyeshadow on with brushes, instead of with the brush that comes in the OneSweep kit. Forget about using the brush to put eyeshadow on my eye – I even found it difficult to get the perfect design on the back of my hand! The colours just seem to smudge together too much, and the eyeliner line is way too thick.
The colours and quality of the eyeshadow are pretty great, and I really like that they have three colours in one kit and you know that they're all going to work well together. I would buy the palette just for the eyeshadow, but not expect it to work as it says it will.
Available at drugstores everywhere.