In an age when hair extensions have gotten popular and even "normal" in some circles, the quest for denser hair isn't that out of the world.  I've got naturally fine hair, and the maintenance and, ahem, price of extensions doesn't appeal to me, but denser hair is something that I'm always on a quest for.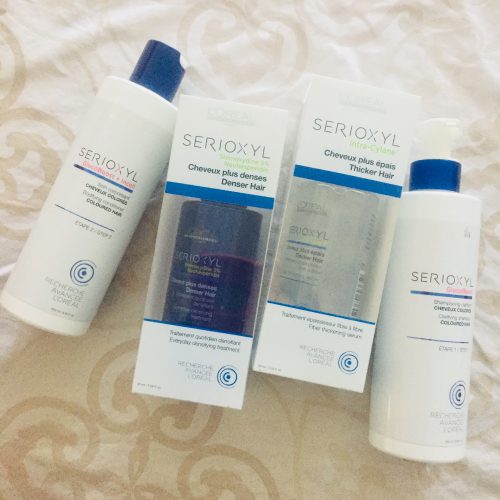 L'Oreal Professionnel Serioxyl line is specially formulated to create the illusion of denser hair.  With a clean-rinsing and minty invigorating shampoo and conditioner, a densifying gel and serum, the entire product line is made to add texture to hair fibers so that it looks as if there is more of them, making your hair look denser.
My favourite products from the entire line are the shampoo and conditioner.  Both are minty, but I especially love giving my scalp a good scrub with it.  The minty sensation helps invigorate the scalp and helps stimulate blood flow helping hair grow.  It might seem like a gimmick, but using mint to help blood flow has actually been around for centuries so it's not an idea that hasn't been tried before.  The shampoo is also clear and clean-rinsing so it leaves your scalp really clean, making it an ideal environment for hair to grow.
The conditioner smooths hair, but isn't overly heavy so it won't weigh down fine hair making it easier to obtain a look that's most volumized.
You can find Serioxyl at salons that sell L'Oreal Professionnel products.
Everything comes in 2 formats – regular and for coloured hair.  $29.50 for the shampoo, $32 for the conditioner, $74 for the Denser Hair Serum (Thickening Treatment), $74 for the Thicker Hair Serum (Fiber Thickening).