Literally, these are the most exciting cleansers I've seen in a while.  I think we're all over the oil cleansing, the balm cleaners, the charcoal masks, but these are different.
L'Oreal took their immensely popular clay masks and turned them into cleansers.  Each cleanser has a significant amount of clay in it, but it's in a formula that emulsifies easily with water and actually cleans your skin.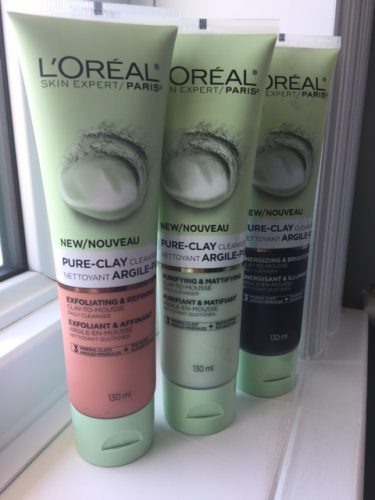 There are three kinds: Exfoliating and Refining (the salmon-coloured one), Purifying and Mattifying (mint-coloured), and Energizing and Brightening (charcoal).
The Exfoliating and Refining cleaners is my least favourite.  It has little bits in it and it doesn't foam as nicely as the others, so it doesn't clean as well either.
The Purifying and Mattifying is my absolute favourite because it smells so good.  The tube says that there's eucalyptus in it, but I swear that I can smell sandalwood and something else exotic so this is my go-to.  I also keep the charcoal cleanser on hand and it's a awesome option for really getting my skin clean.  It's a little thicker than the other two, but it still foams a lot and really washes everything off.  The mint-coloured one doesn't wash away makeup as well but I only use it after an oil or cream cleanser, so it's really just to get rid of any residue.  It does leave a bit of a matte finish itself, but nothing too heavy and really nothing that'll replace my regular skincare options.
These are excellent options for summer cleansers simply because they have an ingredient that's amazing at getting rid of oil – kaolin clay – and you don't have to leave them on your skin for a long time to get the full benefit of the clay!
Available in drugstores now.