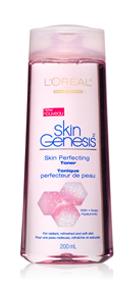 If you're looking to add one product that will improve your skin, let it be a toner. A toner gets rid of any residue on your skin, and in my experience, it can be the one product that makes the difference between good skin, and ok skin. Because there's less residue on your skin, when you use a toner, you'll find that your skin is clearer, and stays clear without much trouble.
I've added L'Oreal's Skin Genesis Toner to my makeup regime, and I absolutely love it. This toner is alcohol free, and has hyluronic acid in it so that it actually provides light moisturization to your skin. This is perfect for all skin types. If you have dry skin, then you're going to love that you can add an extra layer of moisture to your skin. If you have oily skin, like myself, this is likely going to be the only moisturizing that you need.
In one step, you're stripping away makeup and cleanser residue, ensuring more clear skin, and actually providing your skin some moisture. Plus, this is the one product that's going to help refresh your skin in the summer and so it's a must-have.
For a drugstore product, this is one of the very best, and is available at drugstores everywhere.