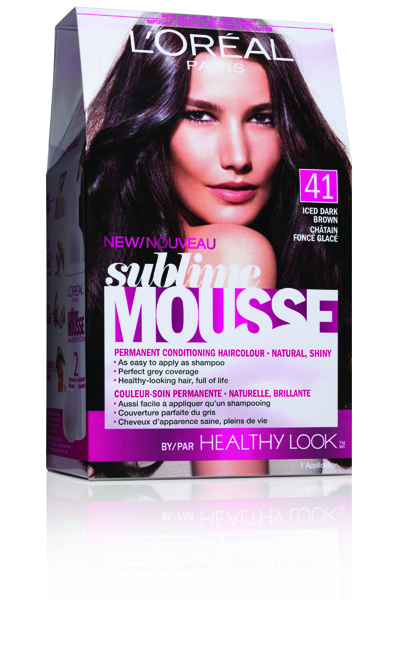 I dye my hair on a regular basis, and I have to say that I haven't found my holy grail of box hair dyes yet. I'm slowly working through the brands but I've tried almost everything at the drugstore.
When L'Oreal came out with a foam hair dye, I was eager to try it. One of the problems that I've had with L'Oreal Preference is that it's so liquidy that it is liable to drip all over the place, and so even though it's a top-rated hair colour, I do not like it.
The L'Oreal Sublime Mousse is said to be non-drip, and so easy to apply that you can do your entire head in 3-4 minutes.  They also say that this dye looks more natural than others.  This hair dye comes in two parts that you mix together. You can then dispense the foam in your hand and apply it to your hair as needed. They do say that you can use the foam to cover all the hair, from roots to tip. In fact, the box says that it's perfect for root to tip application.
The foam had potential. Because it's a thicker product, it was easy to blend on to my hair and apply it exactly where I needed it. I was also able to easily get the back of my head and really get every single part of my hair. Best of all, one box covered all my hair evenly.  And yes, even though I have really long hair, I have to say that this didn't take long to apply.  It took me all of 5 minutes to do my entire head, and I did go from root to tip because I had some highlights that I wanted to cover up.
But, this isn't the holy grail of all hair dyes, in fact, I would probably never use this product again.
The coverage that this provides is horrible. After rinsing the product out, I could still see some grey after I was done, and the highlights I was trying to cover up were still there. I also found that by the time I had finished coating all my hair with the foam, the area that I started with looked dry and as if I hadn't gotten to it at all. I had a couple of pumps of foam left over to re-cover those areas, but it made me nervous to see that it looked as if those areas weren't covered.
In hindsight, I should have seen that coming. Most hair colours don't recommend that you cover your hair from root to tip, because it leads to overly flat thick colour, that looks totally fake. They usually say that you should just cover your roots and cover the rest of your head sparingly so that you don't get that ultra dark and thick look.
The L'Oreal Foam says that you can use it from root to tip because they know that it's not opaque coverage! They know that it's not going to cover as well as the regular hair dyes, so it doesn't matter if you use it all the way to the ends of your hair.
Overall, if you have grey hair, you are going to want to skip using this foam. It might cover it, it might not, so why take the risk? If you don't have a lot of grey (and I don't), you might get away with using this and could use it on a regular basis, but it's nothing fantastic. This product is probably best for those who have a minimal amount of grey to cover and who want a natural looking but permanent hair colour.  This will give you tones and highlights because some of your natural colour will surely peek through the foam.
L'Oreal Sublime Mousse is on shelves everywhere, and retails for $11.99.  It is available in 12 shades.
There are a few other brands that are going to be coming out with foam hair dyes, and I will be trying those and posting my reviews in the coming week!
If you have tried this product, I would love to hear what you thought about it!