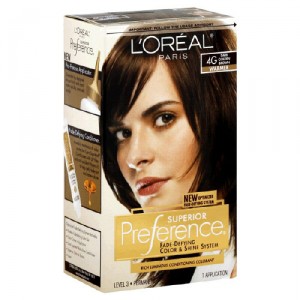 I've been working my way through various drugstore hair dyes, and I have to say that I'm having a hard time finding a brand that I absolutely love.
L'Oreal Superior Preference is one of the best known brands out there, and also one of the highest rated, so I thought I would try it out.
The colour I chose was golden brown, and I have to say that I love the way it looks!  It's nice shiny colour and it doesn't make my hair look obviously dyed.
However, I will not be purchasing this dye again.  I felt that application left much to be desired.  The product is super runny and when it warmed up on my head, it started dripping off!  The sheer messiness of this hair dye means that it was a major pain to apply.
I'm sure many of you out there also dye your hair, and if you've also tried this, I would love to hear what you thought!  And if you have a favourite brand, please let me know what it is!