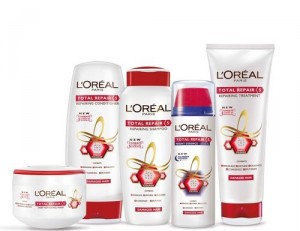 I have curly hair that's usually pretty dry, so I'm always on the search for the next super moisturizing shampoo.  I want something that will hydrate and make my curls look good, but if it's too heavy it won't work because it'll just weigh my hair down.
My latest discovery is L'Oreal's Total Repair 5 Shampoo and Conditioner.
They say that "L'Oréal Laboratories have developed a Pro-Keratine and Ceramide enriched formula that helps restore 5 visible signs of replenished hair without weighing it down.
L'Oréal Paris Total Repair 5 Shampoo is specially designed to repair damaged hair, cell after cell, without weighing hair down.
5 Problems."
Since it said that it wouldn't weight hair down right in the copy, I had to try the shampoo and conditioner.  I stayed away from the mask, because I didn't want anything too heavy, and quite honestly, my hair didn't really need it.
The shampoo is quite moisturizing so you already start by adding conditioning agents to your hair while you wash it, and the conditioner is nice and thick yet super creamy so it's easy to spread through your hair.
Once it was all washed out, my hair was nice and shiny and also super soft.  My curls dried beautifully and though the ends were quite dry, they didn't look it at all.
The one thing that I noticed with this line, is that after a few uses, your hair seems to get used to the products.  I believe that there might be build up happening on the hair, and that makes your hair look more dull instead of more shiny.  My remedy for this was to wash the hair with a clarifying or volumizing shampoo before I went to the Total Repair 5 Shampoo and that did the job.    It is always a good idea to use a different brand of shampoo once a week, especially if you lean towards the ultra moisturizing products.