Have you heard about the Luminess Air Brush Foundation System.  It's the same kind of makeup that professional makeup artists use, and there's no brushes or fingertips required to put on any of the products.  All you use is a simple airbrush to literally spray the foundation on to your skin.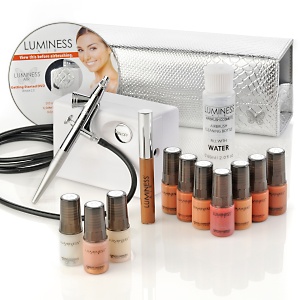 I was so excited to use this kit, and watched the instructional tutorial right when it came in the mail.  Then I foundation matched myself (by spraying a layer on my jaw line and seeing how well it blended into the rest of my skin), and proceeded to use this for a night out.
I've used this 10 or so times now, and I absolutely love the whole system.  Not only does it look natural on the skin, but the foundation lasts the whole entire day and looks fabulous.  When I know that I'm going to be running around for the whole day, I use this system because I know that my skin will look flawless from morning to night.
I think what I really like about this foundation is that it can be customized on every level. You are spraying such a light layer that you can get exactly the right amount of coverage on your skin. Areas that have light scarring get a 2nd or 3rd pass, while the rest of my skin gets just a light spray and it all blends in together. I can also spray some on my neck and chest so that matches the rest of my skin, and I can blend everything out perfectly.
I can also customize the foundation colour. So far, I've realized that I'm a UF-3 mixed with a few drops of the UF-2 and I get my own perfect shade of foundation. I know that when I get a little more tan this summer, I'm going to be a full UF-3 that will maybe be topped up with some of the luminous bronzer.
I'm also loving the blush that the Luminess Air kit came with. On the first try, I found that the blush was way too pigmented and looked unnatural on my skin. However, I used a makeup artist tip to make it blend in more. I applied the blush to my cheeks first, and then I applied the foundation all over my face. This way, the blush showed through the foundation, and it looked more blended in and natural.
I've also really liked mixing a couple of drops of bronzer into my foundation to give my skin a glowy look. The bronzer is shimmery, so you can add just the right amount of shimmer to your whole foundation by just adding one or two drops into the mix.
The one thing that I have to say is that the foundation sets a lot darker than it first appears on your skin. That's why the blush was so hard to use as well – when it went on, it looked like a nice soft pink, but once it fully dried it was much darker and brighter. The same goes for the foundation. I really thought that UF-3 would be a perfect match for my skin and it looked great in the bottle on when I first applied it on my skin. However, once it dried it was much darker, and almost orangy in tone whereas my regular skintone is more of a neutral colour.
My suggestion would be to play with this kit a lot at home, and really see how it dries and wears on your skin before you wear it out. You may decide that you like the slight darkening (it looks great in pictures and totally natural, actually) or you might decide to blend with a lighter colour like I did.
I found that I used a lot more foundation that they recommended to get the kind of coverage and expanse of coverage that I wanted. They recommended using 7-8 drops and I found that 10 drops was ideal for me. At this rate, I'm going through the foundation pretty quickly, but it's really worth it for the look that I'm getting.
My other tip is to use the moisturizer primer that comes with the kit – it is amazing, and I actually saw a difference in how the foundation wore when I used this. The foundation not only went on better, but it looked more natural for the rest of my day.
I also used a translucent powder on top of my foundation to set it. The powder started out really matte, but once everything set on my skin (about 30 minutes later) the whole look was totally flawless.
I don't use the foundation every day – it is more of a special events kind of look for me, so I do use it more on the weekends and when I know that I'm going to have a very long day. I plan on using it a lot more when I attend some weddings this summer, and so far, I've seen that the foundation shows up really nicely in pictures.
Again, the Luminess Airbrush System is available online for $200. Get the beginner kit and really play around with it before you splurge and get the foundation colour that suits you the best.