Over a year ago, I wrote about Lumixyl Brightening Cream which used a peptide to help women get rid of hyperpigmentation.
Now, a year and a half later, Lumixyl has come out with a whole system to help women get clear skin and have it stay clear!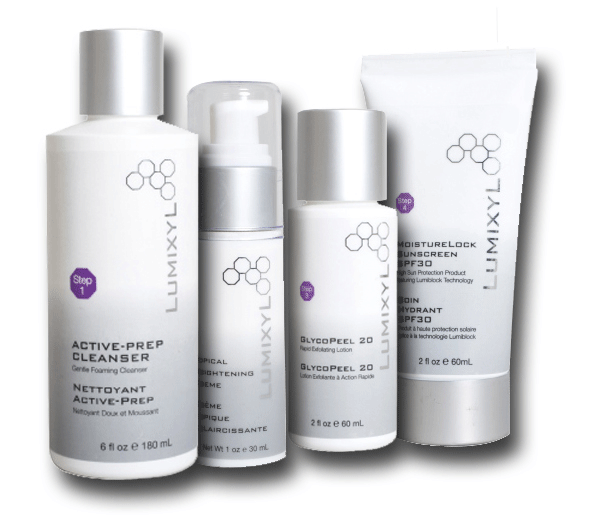 The Lumixyl Brightening System includes a cleanser, the original peptide cream, a sunblock, but best of all, it contains a 20% glycolic acid solution. If you've been shopping for glycolic acid at the drugstore, you know that the maximum percentage you can get is about 12%, and I didn't know that you could get anything higher than that.
It turns out, that if you visit a dermatologist's office, if deemed necessary, you can get a higher percentage of glycolic acid so that you can get rid of hyperpigmentation more rapidly.
The peptide cream contains Decapeptide-12 which helps inhibit the production of melanin more efficaciously than hydroquinone – it reduces melanin synthesis by as much as 40 percent compared to treatments with hydroquinone, which reduced production by only 7 percent in the same study. These results are one reason Lumixyl is considered by many to be the first real alternative to Hydroquinone.
I have been using the system for about 8 weeks now and I've definitely noticed a difference. My skin is more clear and the hyperpigmentation that I had is slowly fading. I notice because I seem to need less and less makeup to cover it up.
My favourite product is the Glycopeel 20 Exfoliating Lotion because it's like a boot camp for my skin turnover. Because the glycolic acid in this is so strong, they recommend that you ease into using this product. Start by using it every other day and see how your skin does. I did notice that I had some peeling when I started using this product, but after a while, that stopped and my skin just got used to the glycolic acid. I used the system only at night because I wanted to use a sunscreen lotion during the day.
Glycolic acid works by making skin turnover more quick, and that means that you have new clear skin exposed more quickly. Because this new skin is so sensitive, you need to use an spf with it, and that's why the Lumixyl system includes an spf 30 sunscreen.
The entire skin brightening system does work because it has all the right ingredients – peptides, a resurfacer, and sunblock. However, a full-sized kit of the Lumixyl Skin Brightening System costs about $300 and that might be a lot for some people. If you are interested in the system, I would suggest getting just the Glycopeel 20 Rapid Exfoliating Lotion for $65 because this is the one product that you can't find it drugstores. It is worth the money, and is cheaper than an HQ containing Obagi product which might give you the same results but with some side effects.
To find Lumixyl at a dermatologist near you, check out the Lumixyl website.