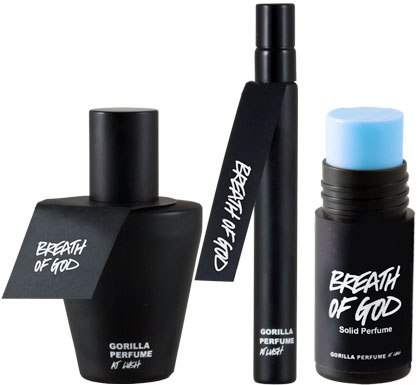 Lush's Gorilla Perfume collection is seriously the best and most interesting collection of scents that has come out this year, and the funny thing is that they are launched without any of the hoopla or fanfare that most big perfume collections are launched with.  I have tried 3 of the scents now, and each one is well-constructed, smells unique, but also stays true to the Lush brand.
When the only fault that consumers can find is the packaging… well, you know that at least the juice is good, because people are already planning on holding on to the bottles.
Breath of God is the latest release, and was originally released as part of Lush's offshoot B Never Too Busy to B Beautiful.  It was  inspired by Simon's (the perfumer's) travels to Tibet.  There he smelled different incenses mixed with the fresh scent of the mountains and was totally blown away.  He created a deep masculine scent and a feminine one and them mixed them together.  Or so the story goes.
I have a thing of incense fragrances, so it's no surprise that I really wanted to own this one.  I was a huge fan of all the original Armani Prive's that came out because they were quite smoky, and especially the Bois D'Encens that was part of that collection.
Breath of God does remind me of the Armani Prive scent but it has clean floral notes that are entirely Lush.
The official notes are:
Neroli, lemon, melon, jasmine, rose, vetivert, sandalwood, cedarwood, amber, musk.
Neroli and Lemon open this scent and give it its lovely freshness.  The middles notes are more floral – a combo of jasmine and rose, and the drydown is intensely smoky and pure incense that lasts and lasts throughout the day.
After an hour of wear, this scent reminds me of burning wood in the fireplace, that's how smoky it really is.
I had a hard time smelling any amber.  The scent lacks the sweetness that is so characteristic of amber, and that was fine by me.  It's nice to wear a scent that isn't sweet or overly feminine and this one almost smells kind of dirty because of the smokiness, but I kind of like that!
The story says that this is a combination of feminine and masculine scents, and I have to say that this combines to make a scent that is unisex.  I adore wearing it but I have to admit that the opening notes are more feminine because they are floral, while the drydown is so deep that it is masculine.  This, however, does not smell like any other masculine scents because the acidic lemon notes are missing and instead the scent is more serious.
Wear this when and if you want to smell different.  Wear it if you're confident enough in yourself to know that you are different.  Wear it if you want nobody else to smell like you, because trust me, nobody will.
I have a hard time deciding whether I like this scent better or Imogen Rose, but as long as Lush is still around, I don't think I have to pick between the two!
You can purchase this scent from the Lush website, or at any Lush store.