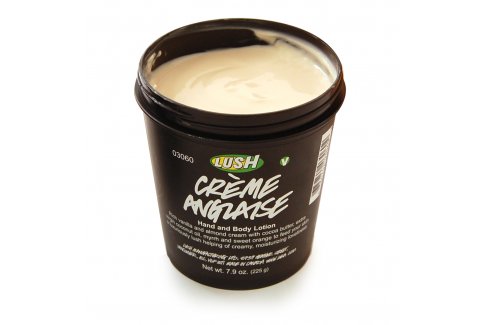 I'm a sucker for Lush products because they smell so darned good. I haven't, however, fallen head over heels in love with one of their newer products for a while though.  Until I tried their Creme Anglaise.
Creme Anglaise is absolutely magnificient because it smells just like a Lush store!  And if you like the smell of a Lush store, then you're going to have to have Creme Anglaise on hand.
The cream itself contains tons of natural products like any other Lush product.  This particular brew is a whipped up blend of coconut oil, almond oil, shea butter and glycerine.  It's lighter than most body butters and so it sinks in quickly, but because of all the oils it still moisturizes really well.
The cost for a tub is $44.95 and I imagine that it's so expensive because there's Saffron infusion in the cream, and saffron is the most expensive spice in the world.
However, I use this sparingly as just a hand cream and enjoy smelling it when I do that.  I think I'm starting to love Lush all over again!