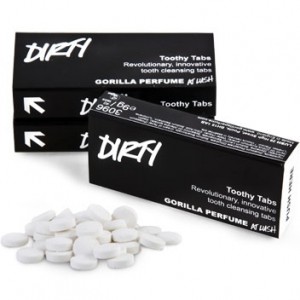 I was at the Lush store recently and saw that their Dirty line also has Toothy Tabs, so-called toothpaste for the lazy.
The sales associate tried to tell me that they were great for camping. You just chew on them, spit them out, and then rinse out your mouth for clean teeth! So easy to use!
So, of course, I tried one right there in the store.
Gross.
These are basically tabs of baking soda that don't taste good at all. Moreover, they leave a powdery feeling in your mouth rather than the clean feeling that brushing teeth can.
I'm not a camper so I don't know if these would be good for camping, but for now I'm just sticking to plain old toothpaste.