Friends, we love Lush, and it makes us so happy to pass on information about the great things that this company is doing!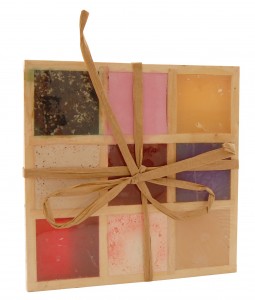 It has been found that the palm oil plantations that are in Indonesia cause devastation to the area and the people living there, and so Lush has worked to eliminate palm oil from all its products.  Some proceeds from their Jungle Soap will go to the Rainforest Foundation, and proceeds from their Charity Pot will go towards The World Society Towards the Protection of Animals since animals such as Orangutans have been threatened by the palm oil plantations.
Lush has also worked so that their soaps no longer have a palm oil soap base, and they now have a limited edition soap wall with 9 of their best-selling soaps made from this new base!  I found the new soaps to not be as soft and creamy as the original ones, but it's a small change and they still smell the same which is the important thing.  If you've ever wished that your bathroom could smell like a Lush store, get this soap wall and just keep it in your bathroom to get that effect!