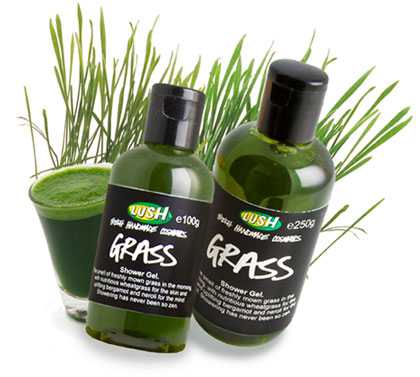 I had to laugh when I saw and smelled Lush's Grass body wash.  Were they totally out of ideas for great smells?  And then there's the Glorious Mud body scrubber that actually has mud in it that you're supposed to smooth on to skin to clean it.  What next?
And then I tried both products and I have to say that I was pleasantly surprised.
Yes, the Grass bodywash smells like grass, thanks to a healthy dose of wheatgrass juice, but it also smells really good because of the bergamot and sandalwood essences that are in the shower gel.  Seriously, I want this in a perfume so that I can smell like it for longer – that's how much I like this.
Then the Glorious Mud body mask/scrub.  It has baking soda in it so that it fizzes under water, and dissolves in your hand so that you can smooth the rich mud over your skin.  This smells like Creme Anglaise which is a yummy vanilla and citrus so there's no mud scent as you put this on your skin.  Seriously, this is a holy grail product.  It leaves skin so soft and smooth!  The best part is, that this kind of smoothness is what I usually feel if I've used a lot of body scrub all over, and I didn't have to do that.  All I did was smooth the mud on, rub it in, and then rinse.  One bar was good enough for the whole body, and this is something I want to keep on hand for special occasions.
Both products were new for the summer and can be found at your local Lush shop or online at Lush.com.