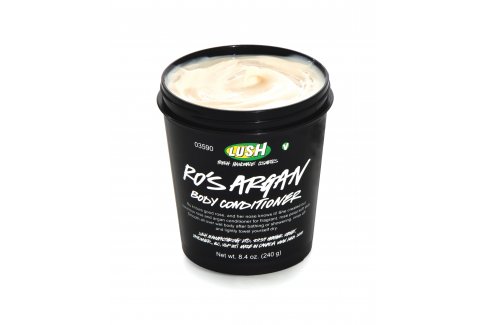 This is the best thing to come along since moisturized body washes.
We all want to moisturize every day, but the problem is that sometimes it just takes too much time.
Lush's Ro's Argan Body Conditioner takes the time spent out of the equation.
This lovely thick rich cream contains a blend of different oils (including Argan oil) as well as shea butter and cocoa butter.  You actually use the stuff in the shower and smooth it on to wet skin and then rinse off.  The Body Conditioner leaves an almost waxy layer on the skin that just sticks.  It won't come off even after towel drying, and so it seals in moisture and prevents it from getting out.
The scent is the best part though – Ro's Argan smells like lush roses and a has an earthy kind of undertone.  Not only will your skin be moisturized after  using this, but you'll also smell so nice for the rest of the day!
Slicking on this body moisturizer in the shower, and then washing it off is way easier than using the traditional body lotion or body butter, and so this is a product that I highly recommend for the winter.
Pick it up at your local Lush store for $30.  A little goes a long way, and I suspect that a jar might last for over a month.  I've been using mine for about 2 weeks and I'm not even half way through the stuff!