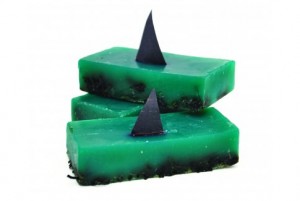 This month, Lush has a new limited edition soap on the table called Shark Fin Soap ($5.95).  You can't miss it at the Lush store – it has a paper shark fin sticking out of the top to remind people that the demand for Shark Fin Soup has caused a huge decline in the shark population.
Lush will be donating 100% of the proceeds to raise awareness for shark conservation.
The soap itself is packed with seaweed and sea salt and packs a fresh exfoliating clean.  I like it better than Irish Spring!
Available on the Lush website and at Lush stores everywhere.