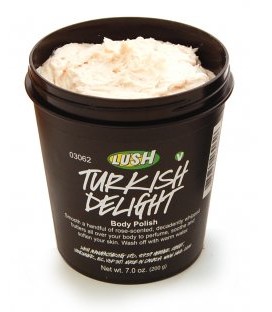 I love anything that smells of roses, or has anything rose-related in it, so I was really excited to try out Lush's new Turkish Delight body smoothie.
For those of you who aren't familiar, Turkish Delight is a Middle Eastern candy that's made with rose water, and sugar, and is a gelatinous little piece of heaven.  The gummy texture and the sweet rose taste is perfection in a cube, and I also love eating it because it's such a primitive and old-world kind of sweet.
Turkish Delight is especially popular in England – Marks and Spencer makes a particularly bastardized yet yummy version covered in icing sugar, that the Brits are quite fond of – so it was no surprise to me that Lush came out with a body smoothie named after the sweet treat.
There are a number of problems with the Lush Turkish Delight, however.  First of all, it doesn't smell like Turkish Delight at all.  There's nothing particularly rosy or sweet-smelling about the product, and it kind of just smells like normal soap.  The other thing about it is that Lush says that it's a body polish and it's really not.  There are no scrubby bits in this and your skin is none the smoother after using this.
This is a lovely whipped soap, and a moisturizing one at that, and one that's luxurious to use in the shower, but a body polish this is not.
Get this at your local Lush shop – it retails for about $30.