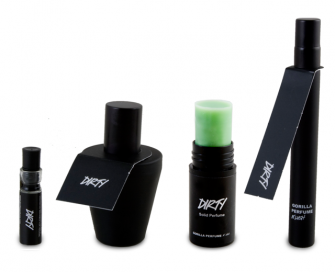 True store: I spray the original Dirty on my yoga mat because I adore the scent and I especially like breathing it in during a workout.
Clearly, I'm not the only one who likes Dirty because they've now turned the body spray into a full-fledged perfume line.
The scent smells just like the original Body Spray which is a plus.  Think herbal chewing gum or toothpaste, and you're headed in the right direction.  This scent is intensely fresh.
I found the body spray to smell very strong, and while the perfume smells the same, it's not as strong, which I think is a plus point.
This is available in an array of sizes, including a solid version, which I would avoid because I don't feel that the scents smells as pure in a solid form.  The spray bottles are where it's at.  9mL is good for a trial and costs $12.95 and if you like, get the larger 30 mL for about $30.
Available online and at Lush stores.