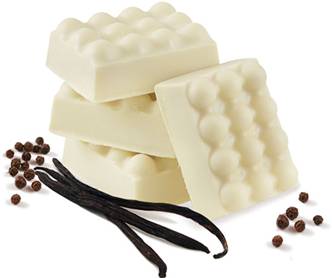 Here's the thing: these days, I hardly ever have time for a massage, because given the choice, I'd rather be spending the time it takes to get a massage on something more… productive.  But, that self-soothing feeling of having your muscles worked into submission is so important, so I choose to indulge in a different way: by getting Lush's massage bars and keeping them on hand for when the mood strikes.
The latest from the shoppe is Hottie massage bar.  Made with bumps that you press into your skin as you massage, this bar offers relief to tired and sore muscles.  The bar is made with black pepper, ginger, and vanilla scents so it's like a spicy yet gourmand scented bar.  I quite like the scent, but as with most Lush products, it is a love it or hate it kind of deal.  Some people will find this to be too strong for them.
Note that all Lush Massage Bars also make awesome moisturizers since they are made purely of cocoa, coconut, and other moisturizing butters that one doesn't always see in the average lotions.  Because they are so strongly scented, it's preferable NOT to use these all over your body because you might just smell too strong to be in anyone else's company.  Definitely not recommended for work.
Hottie is in Lush stores now and retails for $8.95.