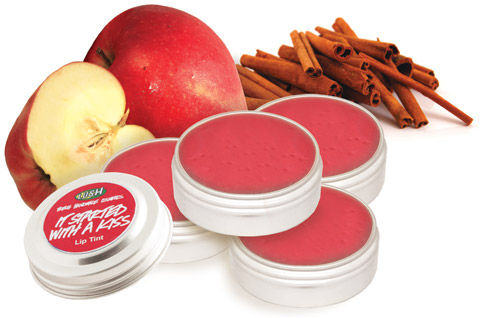 Lip stains are a must have in any makeup bag, because they are the best for a night out.  Even when your lipstick or lipgloss wears off, your lip stain will be there to back up your look.
New to the category is Lush's new lip tints.
They have Snow Fairy (a very light sheer pink that smells like bubblegum), Double Choc (which is a sheer brown colour and smells like chocolate), and my absolute favourite It Started With A Kiss (bright pink that smells like cinnamon).
It Started With a Kiss is my favourite because it has a really bright colour and because of that it's a true stain.  The vivid hue can be patted on to lips for a naturally flushed look, or you can really layer it on so that it looks more like lipstick.  Either way, the colour is really long lasting, and that's something that I didn't find with Double Choc or Snow Fairy.  Snow Fairy was actually too sheer to really show up on my lips, and I didn't love the colour of Double Choc on me.
I also like that these have natural ingredients, because the lip stain marker pens just feel so artificial.  I don't love using my fingers to apply the stain, and seeing that it's very solid in the tin, I think that Lush could have brought these out in a traditional lip balm tube.
In any case, it's not stopping me from using the stain, so I think that means it's a winner.
You can try these on at the Lush Store or purchase online.