Last week, the MAC and Beth Ditto collaboration came out on shelves, and though I'm not a fan of the overly bright Beth Ditto "look", there are tons of products in this collection that are definitely worth checking out.
Case in point: the nail polishes. There are 4 colours that are all creams.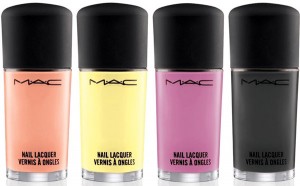 The colours are:
Vagabondage – Mid-tone lavender
Near Beth Experience – Light yellow
Life and Beth – Milky peach
Nocturnelle – Black (this is in the permanent collection while the others are new and LE).
Here's my swatch of Near Beth Experience which is a pale yellow that's really pretty. Yellow nails are all the rage right now, and if you're like me and you can't get behind the egg-yolk yellow that most people are wearing, then this colour is for you.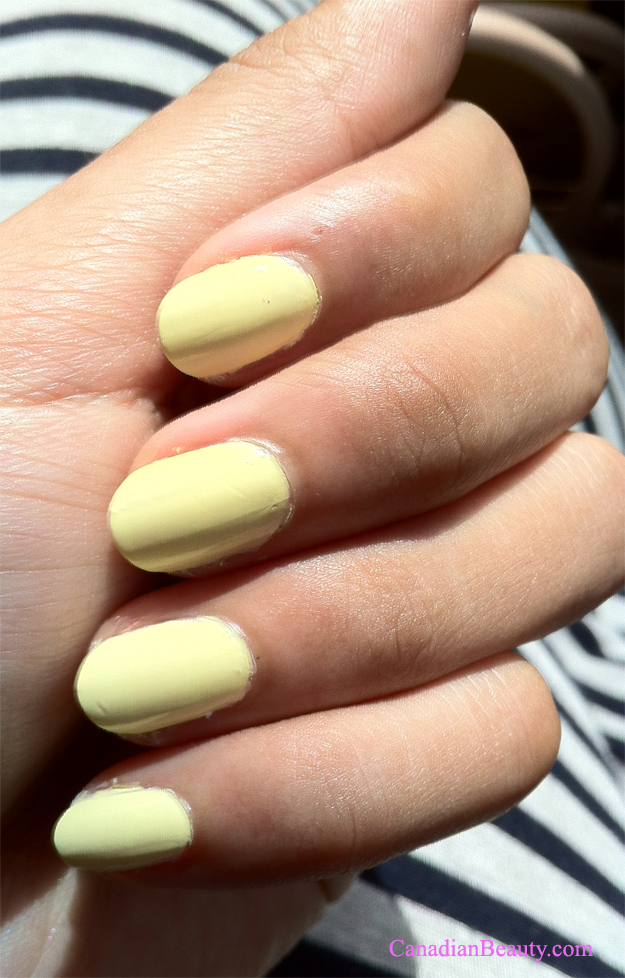 The polish needed three coats for nice full coverage, and the first two coats went on rather streaky. That said, I'm really happy with the colour, so I don't mind the three coats. The polish is thick and easy to apply – I think the streakiness has to do with the formula which is so pale that it reminds me of White-Out.
The other products in the collection are:
Pro Longwear Lipcreme – $20.00
Dear Diary – Bright neon pink
Booyah!!! – Bright orange
You're Perfectly Already – Neutral pale pink
Love Long Distance – Light mauve
Heart Hangover – Deep purple
Lip Pencil – $16.50
Nightmoth – Blackened plum (Repromote)
Entertain Me – Clearly orange (Repromote)
Embrace Me – Vivid pinkish fuchsia (Repromote)
In Synch – Bright yellow pink (Repromote)
Shade & Smoke Shadow/ Liner – $22.00
Beth Mask – Reddish brown bronze liner/ Golden peach pink shadow
Little Miss Moffet – True black liner/ True white shadow
Drag, Strip – Smokey navy liner/ Pale blue shadow
Beth or Glory – Deep brown liner/ Bright blue shadow
Powder To The People – $45.00
Deeply polka dotted powder
Liquidlast Liner – $22
Point Black – Black (Repromote)
Zoom Lash Mascara – $18.00
Plum Reserve – Light violet purple (Repromote)
Blue Charge – Deep navy blue (Repromote)
New Hue – Blackened burgundy (Repromote)
Zoom Fast Black Lash (Permanent)
7 Lash – $18.00
Natural Length