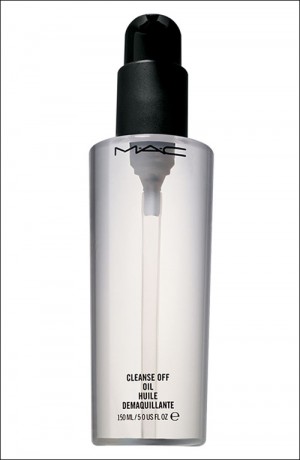 I love cleansing oil, basically to the point where I find other face washes to be mediocre because they aren't as awesome as cleansing oil. My favourite up to this point was the original creator of the cleansing oil, Shu Uemura.
Secondly, I'd always overlooked MAC skincare in the past, even though I do quite like their makeup. It always looks so sad and lonely in the corner because so much of the Mac store is dedicated to makeup. But a few weeks ago I ran out of my Shu Uemura Brightening cleansing oil, and I didn't have time to run downtown to Holt Renfew, so I popped into the Mac store and bought this little gem, the Mac Cleanse off oil.
It's absolutely incredible. No joke.
It smells like a lemon tart; slightly citrusy with a hint of sugary sweetness. It's the same general idea as the Shu Uemura oil, you rub it onto a dry face to break down makeup and then emulsify with wet palms. But I literally need about half the product I would normally use if I were using the Shu oil. The box recommends washing your face with a regular cleanser if you don't feel clean enough, but I've never had to do this. It takes off EVERYTHING including waterproof mascara and gel eyeliner.
The Mac Cleanse off oil doesn't have any tricked out effects like brightening or antioxidant properties, but let's be realistic: face wash is on your face for about a second before it slides down the drain so how much are you really going to get out of it anyway?
The other really great thing about the Mac cleansing oil is that it is 100 percent mineral oil free. This is the ONLY mineral oil free cleansing oil that I've ever tried, as they are difficult to find. I never like that the Shu Uemura cleansing oil had mineral oil, but I never noticed any major reaction to it, so I chose to overlook that fact. Do be careful if you have sensitive skin though, because the Mac formula contains olive oil, jojoba, bitter orange oil, lavender, rose extract and primrose oil, among other things.
You can also use this cleansing oil to clean your makeup brushes because the cleansing oil will remove pretty much everything, and the emulsification process won't dry out your brushes. Win/win!
I would most definitely recommend this. It's cheaper, less messy, and easier to find than the Shu Uemura cleansing oil. $24 CAD where Mac products are sold.