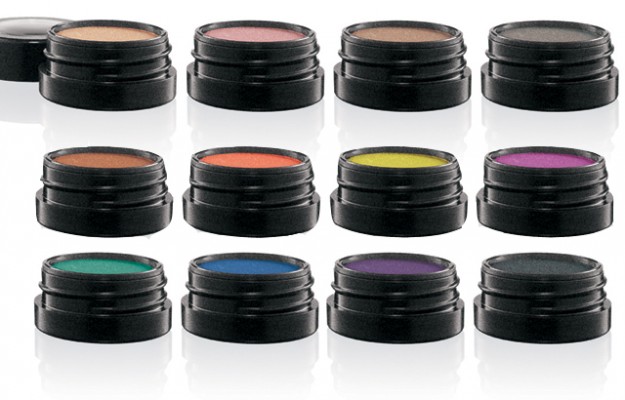 Available online already, this collection of buttery soft highly pigmented super shimmery eyeshadows hits counters today (August 2nd).  There are 12 limited edition shades that are so easy to work with.
The shadows remind me of pressed pigments because they're slightly loose in the container and are very pigmented.  A tiny bit goes a long way, and that makes these easy to blend.
I wouldn't order these online – make sure you test each colour on yourself before you buy, because these have varying levels of shimmer.  Superwatt is a favourite shade – it looks like a shimmery taupe in the pot, but applied you see that it has silvery shimmer in it that almost overtakes the colour.  Backlit is a shade you should definitely check out if you're interested in doing a cat eye with a black that has more to offer, because the multi-coloured pearl makes it so interesting.
Colours are:
Pure Flash! Pale Champagne
Love Power Soft Shimmering Rose
Superwatt Light shimmering taupe
 Electroplate Cool gunmetal grey
Coil copper bronze
Dynamo Mid-tone coral
Brilliantly Lit Bright acid yellow green
Infra-Violet Mid-tone pink violet with blue pearl
Fashion Circuit Bright Kelly green
Switch to Blue Rich cobalt
Higly Charged Rich purple with pink pearl
Blacklit Black with multi-dimensional pearl
Each is $21.