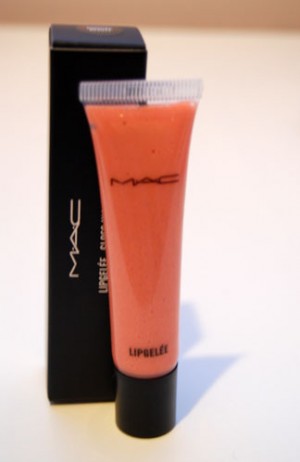 Budding Beauty is a mid-tone coral with gold shimmer in it. It's super hydrating, like all Lipgelées and smells like vanilla (also common to Mac Lipgelées)
The coral is like one of those perfect, lipcoloured corals on me, but the sales girls I first saw it on was a tan, green-eyed blonde, so it seems like it's a pretty universal colour in that respect. My favourite thing about it is that the gold shimmer adds to the lipgloss, but doesn't dry into gross, glittery chunks as the lipgloss wears off.
Overall thoughts: it's pretty much exactly what you'd expect from a Mac Lipgelée in that it's smooth, reasonably non-sticky, and smells like a vanilla cupcake. Yummy! The neutral coral shade of this lipgloss is definitely a useful edition to any makeup kit, so it's worth checking out if you happen to pass a Mac store before the limited edition colour sells out.
Retails for $17.50CDN.