Went by the Mac store this weekend to pick up a couple of random essentials, and they happened to be launching their Fashion Flower collection. Isn't that just the best thing about Mac? It's never boring for sure, because they're always launching and relaunching new colours.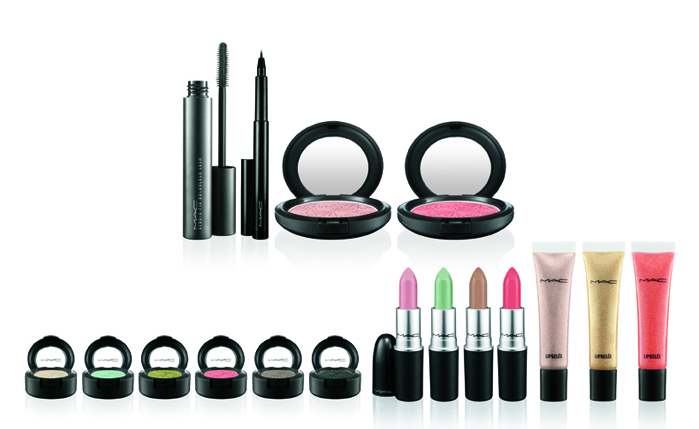 Lipstick
Summer Shower – Light aqua
Mlle Light – white pink
Ever Hip – Bright creamy coral
Growing Trend – Mid-tone taupe nude
I was pretty curious about the Summer Shower in particular, because at first glance it sort of looks like a green, tube form concealer. When it's on, it neutralizes the red-colour of your lips, so it ends up looking sort of nude and shimmery. I'm too pale to even entertain the idea of using anything like that, but for all you girls that still have a bit of a tan, it'll definitely be nice for summer. $17.50CDN
Lipgelee
Now in Season – Pale yellow with pearl pigment
Fashion Flower – Pale pink with pearl pigment
Budding Beauty – Pale coral with pearl pigment
I've always liked the lipgelee in the more neutral colours because it's super hydrating and is easily applied sans mirror. The Budding Beauty, in particular, is a gorgeous coral, so it'll look good on pretty much any skin tone. $17.50 CDN
Eyeshadow
Lucky Green – Frosted mid-tone lime green
Fresh Daisy – Frosted mid-tone yellow white
Bows & Curtseys – Metallic hunter green
Aqua Aqua – Matte bright blue
Free to Be Bright – Matte coral
Groundcover – Matte, mid-tone warm grey
$17.50CDN
Beauty Powder
Alpha Girl – Soft peach pink with gold shimmer
Light Sunshine – Pastel neutral pink with soft gold and pink sparkle
If you don't have a nice peach-pink blush, the Alpha Girl is a really nice one to try out. I'm a big fan of peach-pink blushes because they're so universally flattering. The Alpha Girl is a repromoted colour, but can you really have too much of a good thing? $30CDN
Studio Fix Lash in Bold Black
This mascara is a new permanent addition to Mac's mascara offerings. It's apparently been formulated to be the blackest of black blacks, with an ultra light, long lasting, lengthening formula. $17CDN
Penultimate Eyeliner in Black Pure
Penultimate eyeliner is the Mac version of the felt –tipped liquid eyeliner. Black Pure is the updated, blacker version of the original, Rapid Black. $21CDN
My thoughts on this collection: Bows and Curtseys (dark green) and Aqua Aqua (bright teal) are probably the colours I'm going to go back for, because they're sort of different and the Aqua Aqua in particular is the kind of bright colour that's going to be pretty with a summer tan. The collection is worth checking out, and if you like neutrals, it's best to keep an open mind because some of the colours that look too out-there in the tube or the pan apply really sheer, and perfectly nude.