A quick look at the facts tells us that MAC's Fashion Sets are long overdue:
Spice – #1 classic best-selling lip pencil in Canada, Brazil, Italy, Mexico, UK, Venezuela, Chile, Peru, Argentina, Philippines, Singapore, Spain, Portugal, Thailand, India, Saudi Arabia, Jordan, Kuwait, Bahrain, Lebanon, Oman, United Arab Emirates and Travel Retail
Myth – #1 selling lipstick in Russia, Ukraine, Poland, Estonia and Finland
Russian Red – #1 selling lipstick in Australia, New Zealand, Switzerland, Spain, Portugal, Austria, Singapore and Venezuela Snob – #1 selling lipstick in Brazil, Mexico, Chile, Peru, Argentina and Travel Retail
Chestnut – #1 selling lip pencil in the US
Clearly, when something's #1, it just begs to have accompaniments added to it, and that's the thought behind the Fashion Sets. Now you can have Lipglass and nail polish to match your favourite lipsticks.
The one that intrigued me the most was Snob, because the light neutral pink lippie seemed it would translate into a nail colour that was perfect for the summer.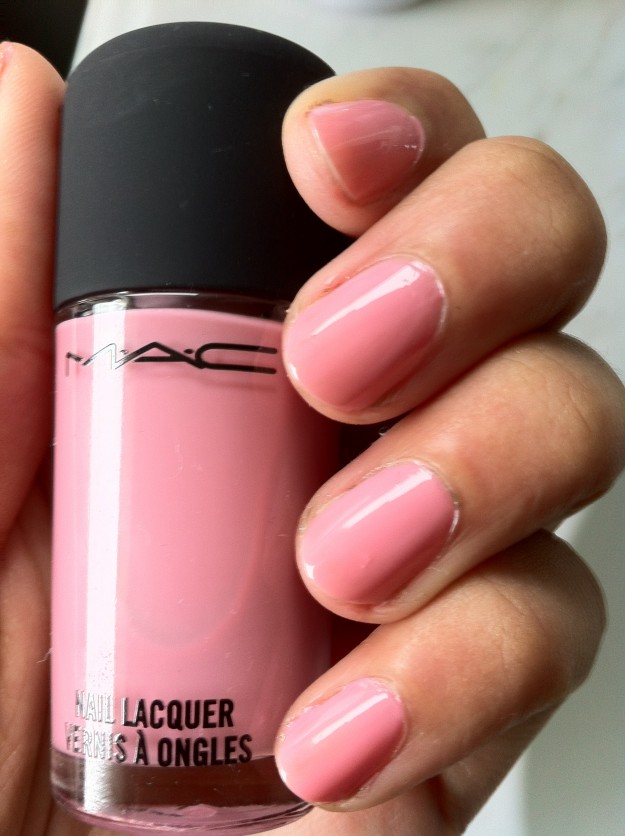 Unfortunately, the polish isn't as great as the matte lipstick. It's low on the pigment and wears slightly see-through. Still pretty and wearable, and definitely something I'm going to reach for, it's just not the pale pink that I was hoping for.
MAC Fashion Sets will be on counters until June 28th.
Here are the colours:
Myth light neutral nude
Snob light neutral pink
Spice Mid-tone neutral nude
Girl About Town bright blue fuchsia
Russian Red Mid-tone neutral red
Rebel Mid-tone cream plum
Chestnut Rich chocolate brown
Lipsticks are $17.50, Lipglasses are $17.50, and nail polishes are $19.00 each.