Of everything offered this season with holiday, I have to say that I am least thrilled about the MAC gift boxes, even though I am digging the British-style tins.  Don't you love getting visitors from the UK and their gifts of Quality Street tins or tins of shortbread?  I always save them and store other things in them, and I even have a telephone booth piggy bank tin.  I guess I'm a sucker for everything British and these tins are no exception.
However, I'm never a fan of getting the lip gloss sets because I have never ever used all the colours, and I never end up using any of the pigments!  After years and years of collecting MAC makeup, the only pigment I've ever gone gaga over was Lithe which came out earlier this year.  That's a mainstay on my makeup table, but everything else is pretty much take it or leave it.
This year there's a set with mini nail lacquers and I am lemming that big time.  If it's one Christmas present I want, it's that one!
All of these go on MAC counters Nov. 4.
Here's what's offered: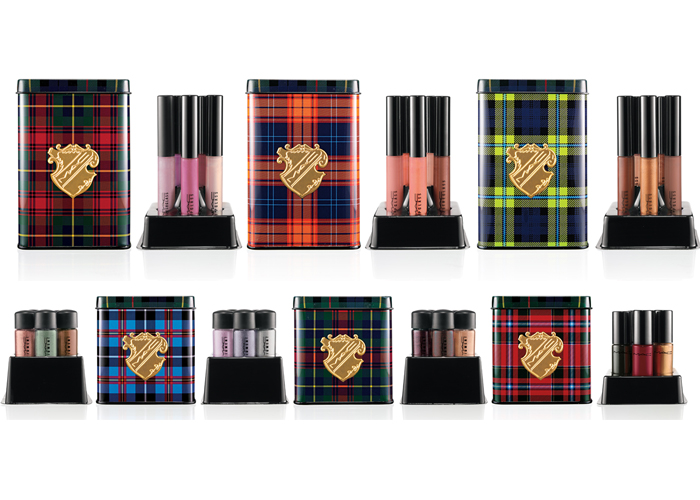 5 Sassy Pink Lassies Lipglass
Sassy Lassy Bright pink fuchsia
Fab Fun Pale crystal pink
Frozen Dream Medium pink rose
Electro Lush Medium mauve
The Wee Coquette Naked neutral pink
Suggested Retail Price   $29.50 U.S./$35.50 CDN
5 Sassy Coral Lassies Lipglass
Tad Saucy Pale muted pink
Jest for Fun Peachy blossom pink
Pretty Quick Bright coral
Mimmy Bright pinky coral
Hearts-a-beatin' Pale raison
Suggested Retail Price   $29.50 U.S./$35.50 CDN
5 Sassy Neutral Lassies Lipglass
Scottish Lilt Peachy beige
Spirits a' Flying Pale gold
Stealing Kisses Glossy spice
Girls At Play Plumy brown
Bright & Perky Classic bronze
Suggested Retail Price   $29.50 U.S./$35.50 CDN
5 Warm Thrillseekers Pigments/ Glitter
Reflects Glitter Peachy/ orange glitter sparkle (Glitter)
Gilded Green Mint ice cream (Pigment)
Gift O' Glamour Pale metallic pink (Pigment)
Gold Mode   Peachy gold shimmer (Pigment)
Most Darling Medium brown shimmer (Pigment)
Suggested Retail Price   $32.50 U.S./$38.50 CDN
5 Cool Thrillseekers Pigments/ Glitter
Reflects Pearl Silver glitter with pink pearl sparkle (Glitter)
Silver Fog Light Silver pigment (Pigment)
Cheers My Dear! Pale violet (Pigment)
Softwash Grey Light purple (Pigment)
Mauvement Taupe Glitter (Pigment)
Suggested Retail Price   $32.50 U.S./$38.50 CDN
5 Smoky Thrillseekers Pigments/ Glitter
Reflects Blackened Red Cranberrry glitter (Glitter)
Naked Fleshtone shimmer (Pigment)
Jigs & Jive   Naked taupe (Pigment)
Blue Brown Brown with turquoise glitter; mermaids tail (Pigment)
Dark Soul Shimmer Carbon (Pigment)
Suggested Retail Price   $32.50 U.S./$38.50 CDN
5 Naughty Little Vices Nail Lacquer
Nocturnelle Black
Asiatique Bright Cherry red
Beyond Jealous Deep forest green
Vintage Vamp Deep blood red
Vice is Nice Classic metallic gold
Suggested Retail Price   $25.50 U.S./$30.00CDN