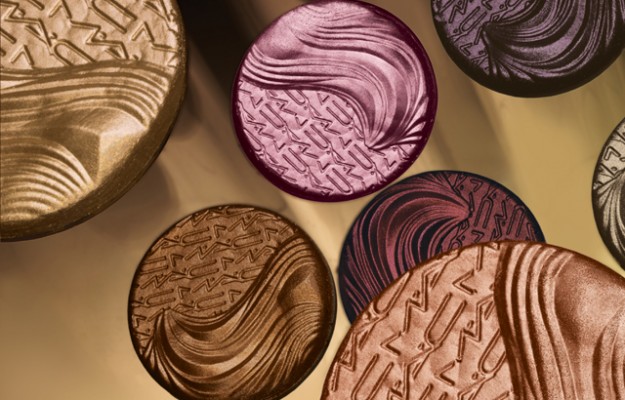 MAC's In Extra Dimension products are basically a version of Estee Lauder's Pure Color Gelee products (see the eyeshadows and bronzer).
Both formulae are a hybrid of gel, powder, and water so that you get the blending power of a liquid, but in a compact that's easy to carry and work with. Both products are very highly pigmented and so are easy to work with and apply. You can use your fingers or a synthetic brush to apply, and they just stick to the skin without any fall-out or flaking.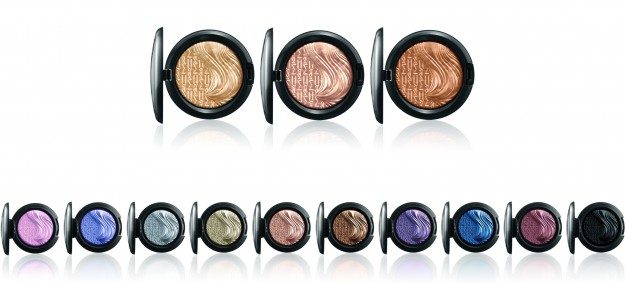 The difference is that the MAC products seem to be slightly drier, but it doesn't really impact the product too much. I really liked the Extra Dimension Skinfinishes because they are the perfect highlighters. They just glide on to the skin and you can layer them for high impact highlighting. The Extra Dimension shadows are great too, but the only reason that you would switch to them over regular shadows is that they're very pigmented.
The Extra Dimension Skinfinish colours are:
WHISPER OF GIlT – LIGHT, SOFT WHITE GOlD WITH SHIMMERY SHEEN
SUPERB SOFT pEACHY NUDE WITH MUlTI-DIMENSIONAL SHIMMER
GlORIFY COPPER WITH GOLDEN SHIMMER
$33.50 CDN
Extra Dimension Eyeshadow colours:
WARM THUNDER – DIRTY SILVER GREY (METALLIC)
BLUE ORBIT – LIGHT IRIDESCENT PURPLE (METALLIC)
GRAND GALAXY – DIRTY MID TONE VIOLET (METALLIC)
LUNAR – ROYAL BLUE (METALLIC)
HAVANA – DIRTY COPPER BROWN (METALLIC)
SWEET HEAT – BRIGHT PEACH CHAMPAGNE (METALLIC)
MODERN PEWTER – DIRTY OLIVE GOLD (METALLIC)
RICH CORE – DIRTY AUBERGINE (METALLIC)
DARK DARE – CHARCOAL BLACK (GLOW)
YOUNG VENUS – PALE WHITE PINK (METALLIC)
$24.00 CDN
Available at MAC counters.