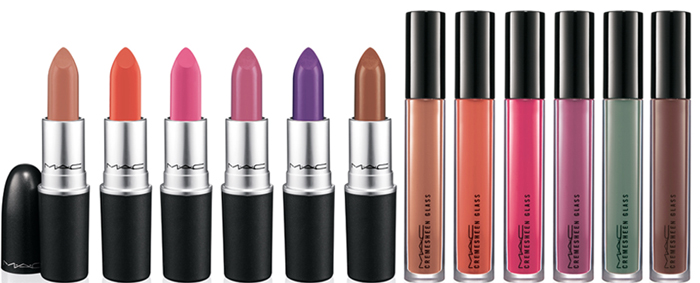 I'm excited for MAC In the Groove but not for all the Mineralize Skinfinish products that everyone loves.  I'm looking forward to the lipsticks and glosses, because they're coming out with new colours in my favourite finishes – Cremesheen lipsticks and Cremesheen glasses.  I haven't checked out any of the colours in real life yet, but I can't wait to find a pair that's going to work for me this summer.  The collection hits counters July 8th.
Here are the lip colours offered:
Lipstick (Cremesheen)
Call My Bluff  Mid-tone creamy coffee
Jazzed  Bright coral pink
Crème d'Nude  Pale muted peach beige
I Like It Like That  Deep blue pink
All Styled Up  Bright yellow pink
Go For It  Mid-tone blue purple
Suggested Retail Price  $14.00 U.S./$16.50 CDN
Cremesheen Glass
On the Scene  Light coral beige
You've Got It  Dirty silver grey
Going Casual  Sheer lilac
Fashion Whim  Light beige
Right Image  Mid-tone blue pink
Chillin'  Light white blue
Suggested Retail Price  $18.00 U.S./$21.50 CDN
And the rest….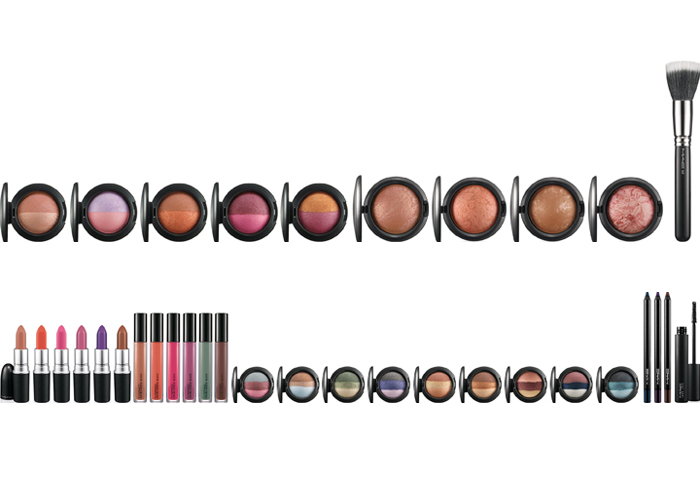 Mineralize Eye Shadow (Trio)
Love to Love  Satin beige/Pearly bronze/Satin brown
In the Groove  Satin green/Pearly burgundy/
Satin coral
Making It Easy  Satin red brown/Pearly beige rose/
Satin dark beige
Togetherness  Satin Lavender/Pearly purple/
Satin grey
Style Influencer  Satin silver/Pearly deep blue/
Satin mauve brown
Soften the Mood  Satin light brown/Pearly rose/
Satin light blue
Fresh & Easy  Satin pink/Pearly burgundy/Satin grey
Calm, Cool & Collected  Satin deep green/
Pearly green/Satin beige
Blue My Mind  Satin light blue/Pearly deep teal/
Satin black
Suggested Retail Price  $19.50 U.S./$23.50 CDN
Powerpoint Eye Pencil
Stubborn Brown  Deep rich brown
Permaplum  Deeply plum with pink shimmer
Navy Stain  Royal blue with shimmer
Suggested Retail Price  $14.50 U.S./$17.50 CDN
Zoom Lash
Zoomblack  Rich black
Suggested Retail Price  $13.00 U.S./$15.50 CDN
Mineralize Blush (Duo)
Happy Together  Satin caramel/Pearly beige
A Little Bit of Sunshine  Satin light brown/
Pearly beige
Hang Loose  Satin bright pink/Pearly lavender
Band of Roses  Satin blue pink/Pearly light plum
New Vibe  Satin deep rose/Pearly bronze
Suggested Retail Price  $23.00 U.S./$27.50 CDN
Mineralize Skinfinish
By Candlelight  Golden Pink
Stereo Rose  Coral with golden bronze
shimmering nuances
Comfort  Golden bronze
Petticoat  Pale rose with gold and amber veining
Suggested Retail Price  $28.00 U.S./$33.50 CDN
Brush
187 Duo Fibre Face  A large, full circular brush
used for lightweight application and blending
of face powder or pigments.
Suggested Retail Price  $42.00 U.S./$50.50 CDN