It's time for me to catch up on reviewing the several collections that MAC launched this past December.  I just got back from vacation and finally have had a chance to try some of the newest products.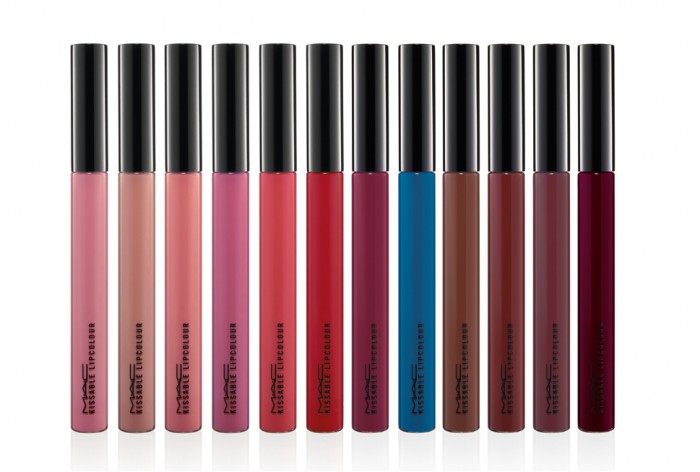 One of the collections launched was Peacocky and it featured a new product called  Kissable Lipcolour.
As the name suggests, this product is "kissable" because it's totally unsticky and just provides a wash of colour to the lips.  Some of the shades are opaque, and others are translucent, but all provide some colour to the lips.
The colours available are:
Enchantée – Light blue pink
Woo Me – Light pinky nude
So Vain – Muted dirty coral
Vanity Fair – Mid-tone blue pink
Exxxhibitionist – Red-toned coral
Strut Your Stuff – Bright true red
Scandelicious – Blue fuchsia
Peacocky – Sky blue with red pearl
Super – Muted neutral brown
Temper Tantra – Mid-tone reddish brown
Flaunting It – Grey mauve
Love Peck – Blackened blood red
After wearing the colours off and on for a day, I have to say that I really like the product.  I like that it's not sticky and it gives me a really polished look.  I miss the moisturizing that a balm or traditional gloss gives me, but I think it's worth it to wear a product that is longer lasting than a balm or a gloss and not quite as dry as a lipstick.
The doe-footed applicator applies the product pretty well, but if you want to wear one of the brighter colours, I suggest applying with a lip brush for a truly professional looking application.
The Peacocky collection hits MAC counters this Thursday Jan. 6th! The Kissable Lipcolours will retail for $21.50 Canadian.
It also features Mega Metal Shadow ($23.50) which I found hard to get excited about, but I am going to be stocking up on my favourite Kissable Lipcolours.