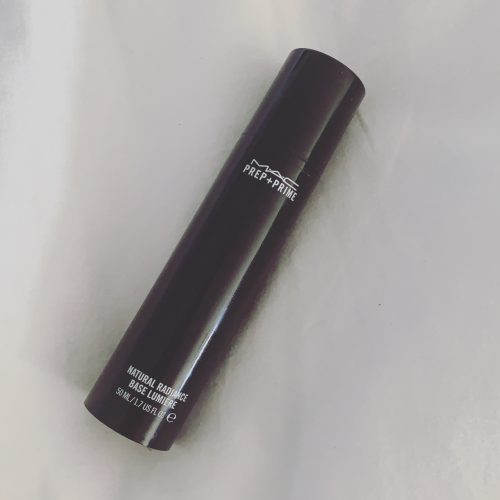 I've been using my time at home to go through all the makeup that I've gotten over years and years, and the one thing that I pulled out was the MAC Cosmetics Prep + Prime Natural Radiance Primer. I have this primer in the pink but it came in yellow too. I remember that MAC came out with these primers when colour correction was having a moment. The yellow primer was great for brightening medium-dark skin tones, and the pink primer was more for light skin tones.
Colour correction is a great way to reduce the amount of foundation or concealer that you're putting on your skin. Instead of covering up whatever redness or sallowness you have, first you correct it, and then you put cover-up just to even everything out.
Now, even though I'm a medium skin tone all the way across the board, I'm using the pink primer and because it's so subtle, it's not making that much of a difference for me.
I'm liking using this primer but what struck me first when I used it is that it's not silicone-based at all. That means that I can use it everyday without making me break out. I love that.
I checked the ingredient list and saw that the top ingredients in this are water mixed with glycerine and other moisturizers. As such, it's a great primer for people who have dry skin an especially great for anyone that has flaky skin on their face (and I'll be the first to admit that I sometimes do). It moisturizes but also locks in the moisture and keeps those flaky bits down so that you can put foundation on top. You might want to save it for special occasions, but I actually think that it's great for everyday and you have dry skin that you want to keep under control when you're wearing foundation.
You can find this at MACCosmetics.ca or wherever you get your MAC products.
$49.