It's the days of no foundation. I know. I've been a religious foundation wearer for the better part of two years, and my skin isn't better now than it was then, but I found that I just wanted to be more low maintenance and cut the habit. So here's how I did it: I went on vacation and purposely didn't pack foundation with me. I wore it the day I left: to the airport. But then I didn't apply any while I was gone for ten days because I hadn't packed it.

What I took with me was this: MAC Sheer Mystery Powder from aeons ago.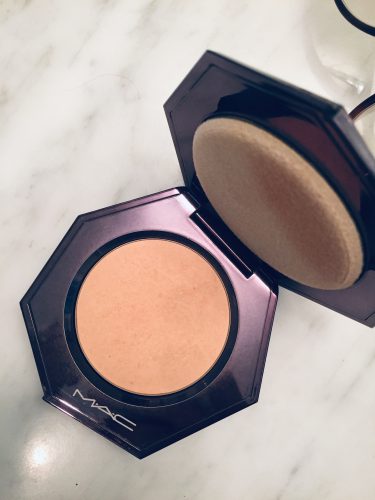 I went on a "shop my stash" binge, and got rid of molding lipsticks and got out some stuff that I could be using but wasn't. The Sheer Mystery Powder in Medium Plus which is just a bit darker than a yellowish-medium but not as dark as medium-deep. This was limited edition and is only available in Deep Dark on the MAC website.

It's sheer coverage and very natural looking, which makes it perfect for everyday. I can apply it on my dry skin, but to be honest, if I'm using a powder I use a very moisturizing primer beforehand, or even a facial oil because I find it makes the powder stick better to my skin.

This particular powder photographs beautifully, and looks very natural in every light. It lets your skin shine through – you can't hide freckles or scarring with this, but I'm ok with that. I think 2019 is going to be the year of more natural makeup, and I'm here to celebrate that.

I think you should join me. Would you go without foundation?

Sheer Mystery Powder is $72. I apply with a big buffing brush and really pile on as much as I can. I like the hefty palette and the pretty packaging, and I think I'll keep it around even when the powder is done. I've thrown out the little puff that it came with because I only apply this at home. The powder doesn't last that long on your skin – I was oily after lunch – but that's just me. I'm sure if you use it with a primer you could make it last longer, or you could top this with a setting spray to really seal it in. I'm trying to make mornings as quick as possible, so this is the last step in my skincare, after sunscreen, and then I'm out the door.

Anyone else have resolutions for 2019? Or new habits?