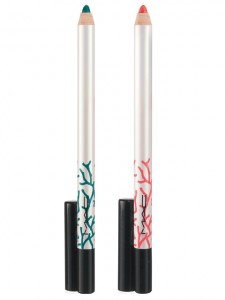 I know I've already talked about MAC To the Beach collection, but I just love the pencils that are part of this collection.  I have the eye kohl in Float on By.  This is a nice matte turquoise.
The lip pencil I have is also matte, but it's a lot brighter.  The shade I have is Temperature rising and it is almost a neon orange.  I love wearing this on its own – neons are fun to play with – but this can be a little much for everyday, so I top it with a pink gloss to make my own coral colour.  It actually goes really well with the Hipness blush which is also a part of this collection.
Both pencils go on super smooth – the eye pencils doesn't tug at the delicate lid area, and the lip pencil gives vivid colour in literally one swipe.  I top with a very thin line of black liner and I'm totally ready for the summer.
The pencils are also great to use all over. I have used the eye pencil with a primer – I've applied it as a shadow all on its own, or smudged it with a brush loaded up with gold eyeshadow. My only way to use the lip pencil is as a lip colour, and though I usually top with gloss, just rubbing my lips together distributes the rich pigment and gives me the of-the-moment orange lip that I have come to love.
Pick these up while they're still available at your local MAC counter.