MAC's Venomous Villains comes out on September 30th, and trust me, even if you're not a Disney fan, you're going to find something you like in the collection.  There are some products that are bananas, like oil-spill nail polishes, cooling powder, Grease Paint sticks (my personal favourites), and even pretty colours!  I think this is possibly one of my favourite MAC collections to date, and it was interesting for me to read how it came to be, which is why I'm reposting this Q & A.  Enjoy.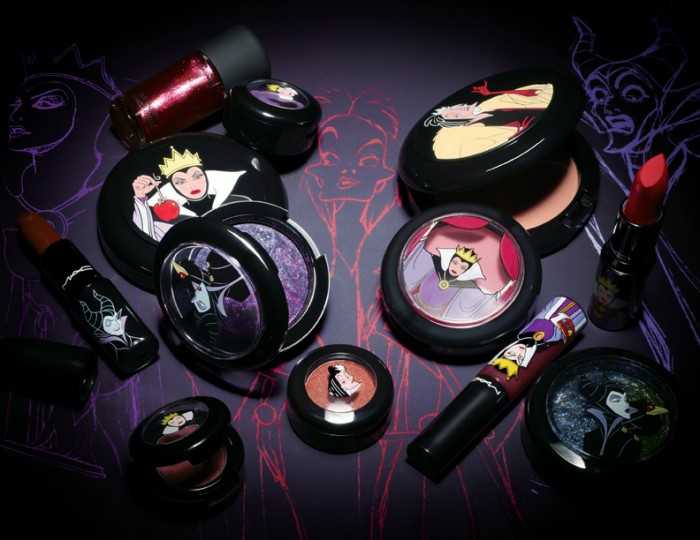 Q: How did this partnership with Disney come about?
A: This is actually a collection I've had percolating in my brain for at least three years. We were in a meeting
and John [Demsey, Estée Lauder Companies Group President] said, "What about that great idea you had about
doing a villain collection?" So I was excited to see it come out of the archives.
We approached Disney and they agreed. They have just been really great collaborators in providing such a vast
wealth of materials for us. In some cases they've redrawn characters, given us access to original sketches
and all the specific colours and designs as inspiration.
Q: Usually, it's the ingénue who reigns as the beauty icon. What is alluring about the villain?
A: Well it's great to be sweet and lovely and kind, of course, but it's more interesting to be a little naughty,
isn't it? Everybody loves a villain and wants to take a bite of forbidden fruit from time to time. Disney has
always created iconic ingénues, but their counterparts, the villains, are just as memorable.

Q: These villains have different personalities and qualities that make them venomous; do you think that
women can identify with that?
A: I'm sure every woman in the world has a little villain in her somewhere, whether she wants to admit it or
not! It comes out from time to time in all of us. So I don't think it will be so difficult to relate to at least one
of these characters, if not all of them.
Q: Tell us about the creative direction in terms of the fun, pop packaging.
A: We took the characters and applied them to our components, all coming perfectly together. In some cases
we used the symbols, and in others the whole characters. We love that there's a level of sophistication to the
packaging. Sometimes you can put a piece of pop culture iconography on an item, and when it's been designed
in the right way, there's an element of urbanity to it.
Q: It's an interesting, unexpected twist that one of the villains featured in this collection is male. How did Dr.
Facilier make the cut?
A: We're a brand for All Ages, All Races, All Sexes, so why not have a male villain?! I was watching the trailer
for The Princess and the Frog and thought the whole New Orleans voodoo vibe was amazing.
He's also the most recent villain to come on the scene, so he's very current. We brought it up with Disney and
they were totally agreeable to the idea.
Q: Who is your favourite villain from the collection?
A: I could just watch Cruella De Vil forever—I think she's über glamorous! Of course, she gets her just
desserts in the end. She really knows how to enter a room and makes some of best movie diva entrances of
all time, and it just so happens she has an ulterior motive, ha!