MAC has a Make Up Art Cosmetics collection that's on counters until February 16th, so you're going to want to check it out before it's gone.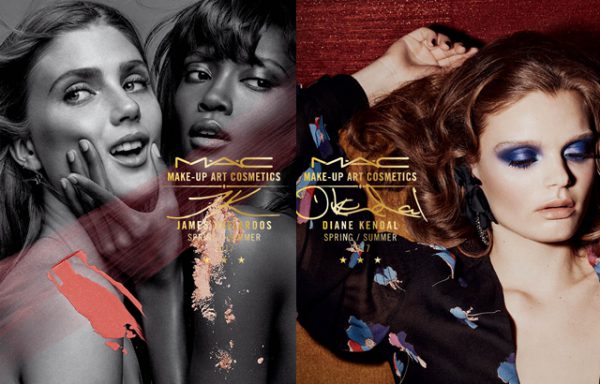 The collection features edits of makeup and limited edition products from three separate well-known makeup artists: Diane Kendal, Kabuki, and James Kaliardos.  Now, I know all three, and have been following them for a decade, so I was excited for this collection.  It was clearly created with makeup nerds like me in mind.  I still remember seeing James Kaliardos backstage at a show and watching him teach his team how to do makeup, and oh, look at that, I wrote about it on the blog too!
Anyway, I've checked out the Diane Kendal and the James Kaliardos collections and they're both awesome because they have some must-have products and some products that are better left for makeup artists.
The Diane Kendal Collection includes the following:
ENHANCE ME / CASUAL COLOUR LIP & CHEEK X 6
Petulant deep reddish-brown
Contrary bright red-orange
Valiant light pinky-nude
Fiery deep scarlet red
Heavenly bright mid-tone bluish pink
Marvelous deep pinky-beige
SRP: $40.00 US/$48.00 CAD
GLAMOURIZE ME / CREAM COLOUR SHADOW X 6
Glowing light gold pearl
Dynamic reddish-bronze with pearl
Alluring royal purple with pearl
Enigmatic reddish-plum with pearl
Daring navy blue with pearl
Rebellious deep blackened-brown with pearl
SRP: $40.00 US/$48.00 CAD
OPULASH MASCARA
Flighty deep burgundy
SRP: $18.00 US/$21.00 CAD
COVER ME / M·A·C STUDIO CONCEAL AND CORRECT PALETTE
Lightest very light beige
Light light beige
Light Medium light beige
Medium medium beige
Medium Dark dark beige
Darkest deep beige
SRP: $40.00 US/$48.00 CAD
KAJAL CRAYON
Flourish Me Deep rich black
Flourish Me Beautiful deep purple-plum
Flourish Me Bold bright indigo blue
Flourish Me Vibrant bright teal
SRP: $18.00 US/$21.50 CAD
M·A·C STUDIO QUIKTRIK STICK
Radiance / Shadow pure white pearl /
matte mid-tone neutral brown
Sheen / Smoldering very light pinkish champagne
shimmer / matte deep warm brown
SRP: $32.00 US/$37.00 CAD
BRUSH
230SE Multipurpose Detailing Brush SRP: $25.00 US/$30.00 CAD

The highlight of the Diane Kendal collection is the Conceal and Correct palette which would be my desert island concealer palette – it can do everything from highlight to contour, to work as a foundation.  The colours are creamy and look like real skin when you blend them in.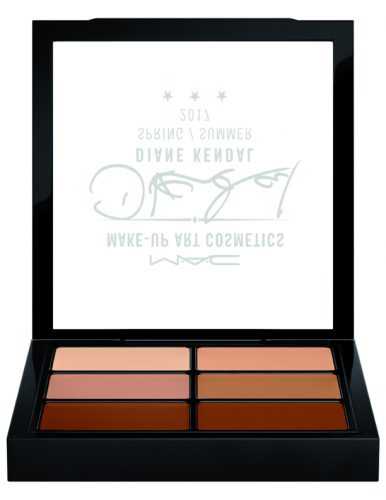 I also like the QuikTrik sticks – my colour is Sheen/Smouldering because it has a more subtle brown to contour, and a more golden highlight colour so it looks more natural.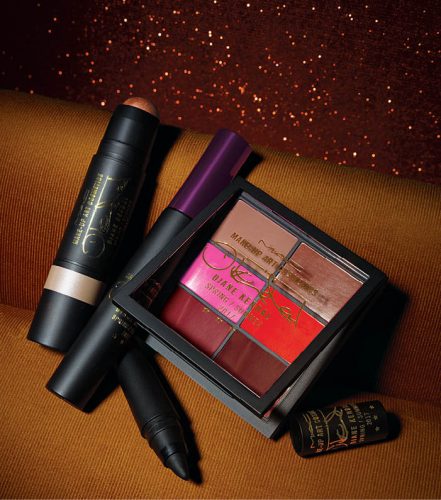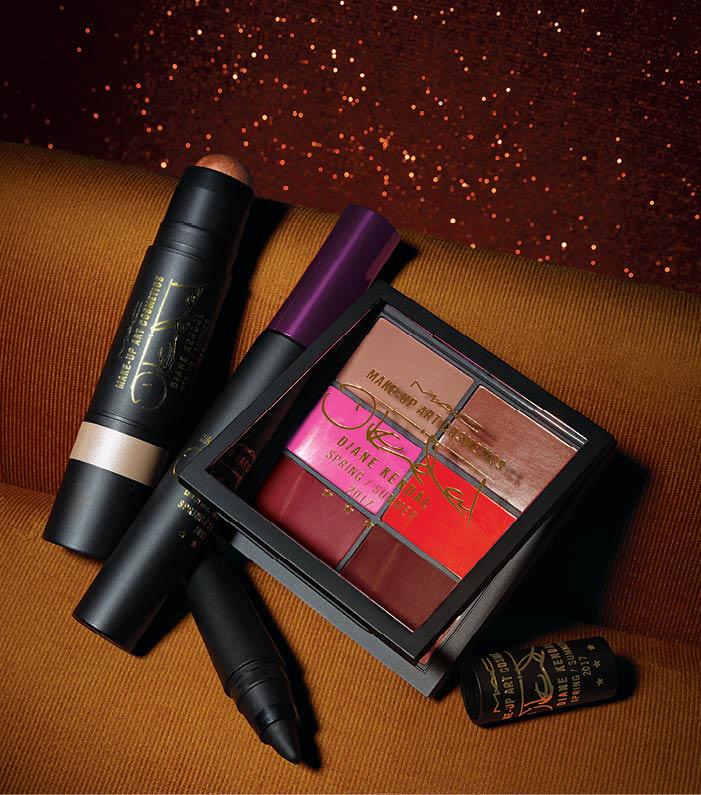 Here's what's in the James Kaliardos collection:

LIPSTICK
Almondine lippy pink (lustre)
Bloodstone bluish mid-tone red (amplified)
Jasper deep reddish-brown (satin)
Coral Bliss frosted light coral (cremesheen)
SRP: $17.00 US/$21.00 CAD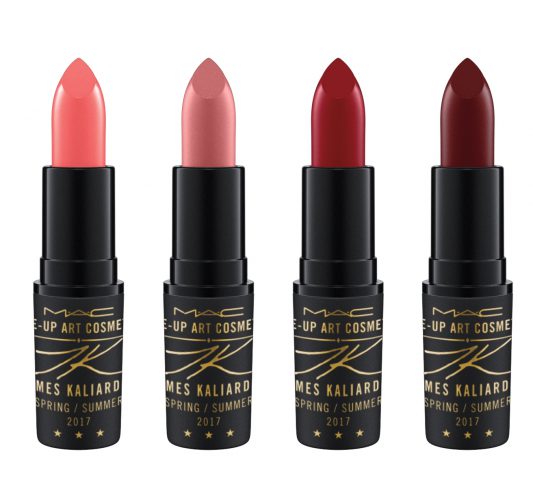 The lipsticks are beautiful – especially Almondine which is a very wearable pretty pink.  It's going to be my go-to this spring.  I'm saying goodbye to matte lippies!
TRICOLOUR LIP GLOSS
Stratagloss Pyrite mid-tone pinky beige with fine gold reflects
Stratagloss Opalite sheer light peachy-pink
with gold and blue fine reflects
SRP: $20.00 US/$24.00 CAD
INTO THE WELL EYE SHADOW
Matte Galena mid-tone cool blue (matte)
Midnight Tryst deep warm brown (matte)
SRP: $20.00 US/$24.00 CAD
JUMBO PENULTIMATE EYE LINER
Rapidblack true black
SRP: $21.00 US/$24.00 CAD
Also: the pressed pigments are so good!  They are majorly glittery and work really well layered on top of eyeshadow.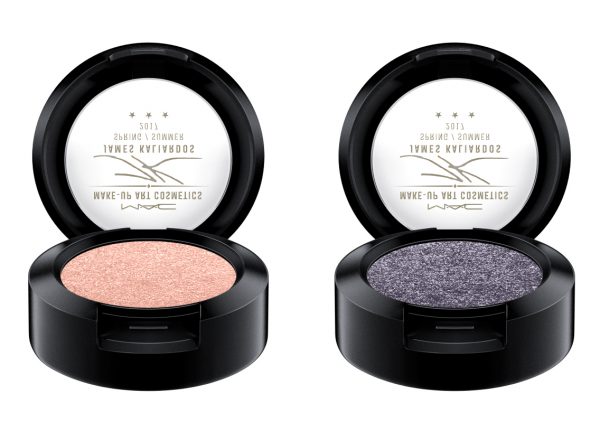 PRESSED PIGMENT
Black Grape deep aubergine with multi pearl (frost)
Light Touch high pearl powder in light shade (frost)
SRP: $23.00 US/$27.50 CAD
HAUTE & NAUGHTY TOO BLACK LASH
Black
SRP: $23.00 US/$28.00 CAD
LASH
50 Lash
SRP: $17.00 US/$20.00 CAD
I'm also loving the Moons of Saturn Full Face Kit.  The colours are totally wearable, even though I don't like the glitter that's in the highlight.  I love the idea of a full face kit so much that I'm going to make it work.  The Rhea blush is just right – coverage and colour in one product, and the sculpting powder is totally matte and so very wearable.  I'd take this on vacation with me.


MOONS OF SATURN FULL FACE KIT
Rhea bright pink-coral (cream colour base)
Gypsum light golden champagne pearl
with fine silver reflects (cream colour base)
Natural Sandstone matte
light golden bronze (sculpting powder)
SRP: $40.00 US/$50.00 CAD
The Moons of Jupiter Kit would be suitable for someone with a darker skin tone – the blush is darker than it looks in the pictures.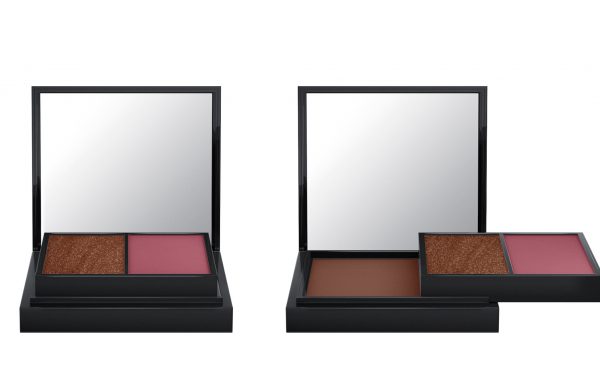 MOONS OF JUPITER FULL FACE KIT
Ganymede rosy bronze pearl with pink
and gold fine reflects (cream colour base)
Callisto mid-tone reddish-plum pearl (cream colour base)
Galaxite matte deep reddish brown (sculpting powder)
SRP: $40.00 US/$50.00 CAD
BRUSH
246SE Synthetic Fluffy Eye SRP: $25.00 US/$30.00 CAD
178SE Duo Fibre Angled Face SRP: $42.00 US/$51.00 CAD
(ONLINE EXCLUSIVES)
LASH APPLICATOR
SRP: $20.00 US/$24.00 CAD
LIP PENCIL
Vino intense violet purple
Subculture underground pink
SRP: $17.50 US/$21.00 CAD
EYE BROWS
Stud deep rich blackened brown
Fling light taupe ash blonde
SRP: $17.50 US/$21.00 CAD
Overall, I think this collection really has something for everyone.  Pretty colours that are wearable, but also nice innovative formulas that are interesting for makeup artists to use.  I love multi-purpose products because they're great for traveling or for keeping at the office, and this collection seems to have many of them in formulas that really work.  I love that the contour colours are always matte – as they should be – and the highlight is a real highlight that you can see.  I also love that so many of the products – from the Cream Colour Bases to the Pressed Pigments – truly work well when applied with your fingertips so you can really get in there and play with your makeup.
Check out the whole collection on counters while you can.