In this era of Kardashian Body Makeup that's available now, I've decided that I'm not going to buy it until I've actually used up my other body products that I've gotten at one time or another. It seems that there's a backlash against almost anything new these days, and it's easy to hate on anything Kardashian/Jenner-related because for some reason, we just expect them to do it better and get it right.
In the case of this new body makeup, people are complaining that it only comes in 7 shades, and that it places an undue pressure on women to look perfect. In this age of photoshop and filters, I hate to say it, but if there's any pressure, it's from yourself. Nobody's body looks perfect – lets move on, or lets buy the body makeup and move on! You do you!
I'm not going to be putting makeup on my legs because I would hate for it to rub off on clothes or furniture, but I do love me a good shimmer product and I'm going to use that until the days of summer are gone.
It pains me to say this: but I've had this MAC body oil for years and you can see that I've barely used it.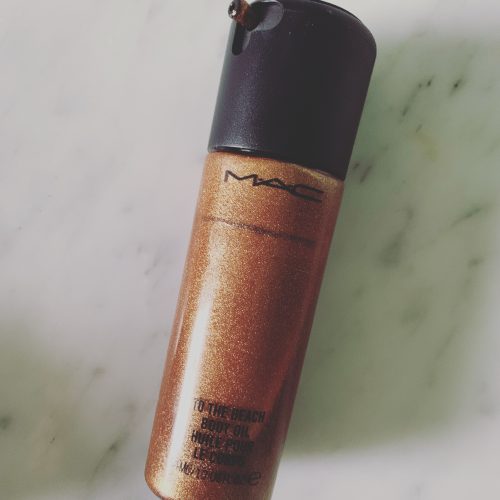 All that is going to change this summer. I've put this MAC Body Oil at the front and centre of my vanity so that I remember to use it when I'm baring my arms or legs. I even put it in my hair and it gives it a little extra glow.
The benefit of going to a makeup company for a body product is that their products are super pigmented – and this oil basically has an even shimmer to oil ratio. The shimmer is densely packed in this oil, so that it almost comes out looking like a gel. It's got a hint of a bronze tint to help your skin look more even, but really, the light-reflecting properties of the shimmer will give you a glow.
Here's to shopping your stash instead of shopping online, and finishing what you have. If you see me post this as an empty, you'll know that I've been successful.