Make Up For Ever's new Aqua XL eyeliner and eye paint are a long-wearing options for any seasons.
The eyeliner comes in a tube with a spongy applicator that lets you draw a fine or thick liner with the perfect feline flick.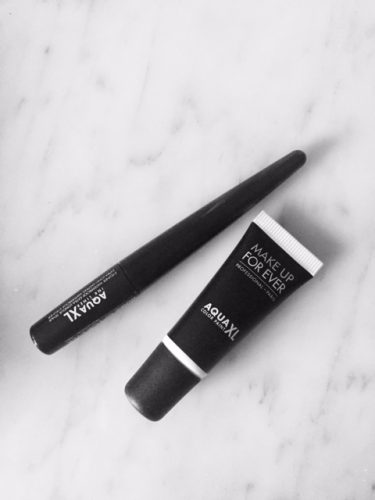 The paint is just that.  A liquidy eyeshadow that adheres to lids once it sets.  And that's the key to using it: letting it set.
I have the eyeliner in dark blue and the paint in black.  I thought I would get the black paint to see if I could use it as eyeliner and the truth is that it's difficult because it's so liquidy and because it needs to dry.  Open your eye too soon, and you get the paint all over your lids and that's not the look I was going for.
The eyeliner is amazing.  Truly longwearing, this doesn't smudge or smear off, but comes off easily with makeup remover and water.  That's pretty much everything I want in an eyeliner – oh, and it's fairly easy to apply given you practice a little.  I definitely had to practice because i hadn't worn liquid eyeliner in a while, and I'm so glad I did.
Pick them up at Sephora stores.