This comes as we catch up from the new year: Make Up For Ever, the creator of possibly the best HD products out there, is looking for a new model for their HD Foundation.  They ended their casting call last week, but now it's time for the finalists.  Check them out on Facebook.  They've picked 20 semi-finalists and will pick a winner from them.  It's pretty interesting, because the girls are all gorgeous, and the judges (including Dany Sanz the creator of Make Up For Ever)  have a huge job picking the winner.  Of course, the winner will be in a Make Up For Ever ad campaign that's not going to be photoshopped!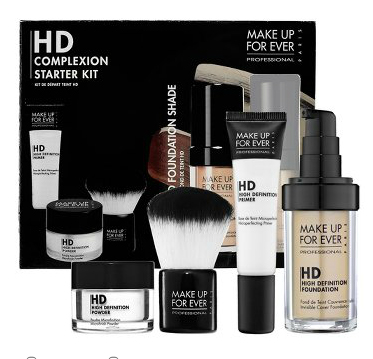 And while you're at Sephora, check out the HD Complexion Starter kit which is really good value because you get a full-sized HD Foundation, an HD setting powder, the Kabuki brush (which applies powder to a flawless buffed finish), and a primer all for $89 though the value is over $110!  It's a great deal and the chance to try some truly amazing MUFE products all together.
Now, I have to admit that I found it difficult to find the perfect shade of the foundation.  The one I got matched with was too light, and then I ordered a different one and though the # on the foundation was higher, it was actually lighter in colour!
So, I would suggest getting a sample, trying it out for a week, and then going ahead to buy the foundation.
Another tip: I was watching Youtube videos and they used the Kabuki brush the apply the foundation!  I tried this myself and thought it worked really well.  I got a nice streak-free finish because of the plump fibers of the brush and it's nice round head.