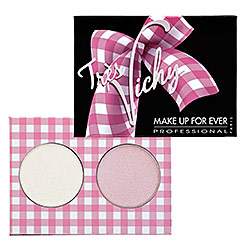 I have to admit that I am slightly baffled by Make Up Forever's spring collection.  It seems to have been inspired by Barbie instead of runway makeup.  Perhaps they are trying to recruit the plethora of teenage buyers instead of the true blue makeup experts who usually gravitate towards Make Up Forever.  They have lashes with pink bows on them and eyeshadow palettes that feature pink!
In any case, I am gravitating towards their Tres Vichy Eyeshadow Palette because I have a thing for white, grey, and off white shadows these days and seem to be wearing them exclusively!  I add some depth in the crease by way of a darker shade, and I'm good to go!
The Tres Vichy palette features a lovely shade of Diamond shadow.  It's a white with chrome shimmer, so it is very shimmery and pretty but not too white and starkly so.  The shade is easy to pull off every day, and I prefer it to the pink in this palette, which they recommend you use on your entire eyelid.  I should mention that I found that the eyeshadow was very powdery and tended to fall beneath my eye, so I found it better to gently dab on the shadow instead of sweeping it like I'm used to doing.  I even liked using this on top of another colour to add some shine to my eye, and that's what Make Up Forever advises you do, anyway!
You can get Make Up Forever products at Sephora stores!