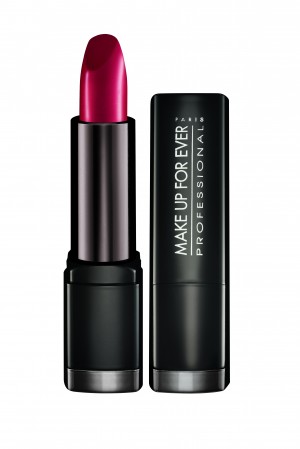 Make Up For Ever is definitely the new hot brand of the year.  They are churning out the new products and each one seems to be better than the last!  Their latest is a revamp of their lipsticks.  Now, there are tons of colours in 3 finishes – matte, pearly, and satin.  The new lipstick is called Rouge Artist Intense and is definitely geared for major colour no matter what finish you pick.  There are no sheer tones here.
I really really like the mattes because they have crazy lasting power and aren't leaving my lips dry.  I also like that there's a bit of a stain when the lipstick wears off.
The shade you see is #44, which is a satin finish.  It's not as creamy and comfortable as I'd like, but it is more glossy than the matte, so I'd suggest trying it if you find the matte to be too dry!