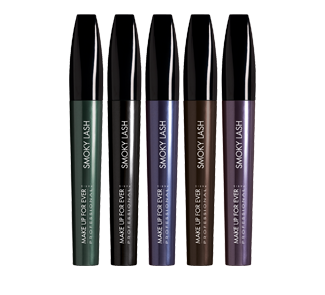 Now, Make Up Forever's Smoky Lash Mascara is available in more colours.  This fall, the company introduced the mascara in plum, blue, green, and brown incarnations.  I have the mascara in purple and the colour is vibrant and shows up on my dark lashes really well.  Most coloured mascaras don't show up properly, but I did not have that problem with this one.  It is great for adding something special to your look, although I don't love it for every day just because the colour is so vibrant.
I know that I liked the original Smoky Lash, but for some reason, I found the purple colour to be kind of dry and difficult to build volume with.
Are you a fan of Smoky Lash mascara?  What do you think of the colours?