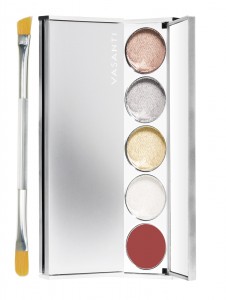 We love it when companies come out with products for a good cause and when one of those companies is Canadian then that's a real bonus.
This December, Vasanti Cosmetics has come out with an really neat palette that supports this year's Olympic ceremony that will take place in Vancouver. The Go Canada Eye Palette feature gold silver and bronze eye shadows along with a shimmery white highlighter.
The eyeshadows are very highly pigmented and are great for a night out. The palette also features a Jelly-like red gloss that adds a pop of colour to your look, and the gloss is supposed to represent Canada!
Pick this up wherever Vasanti products are sold. Retails for $40.